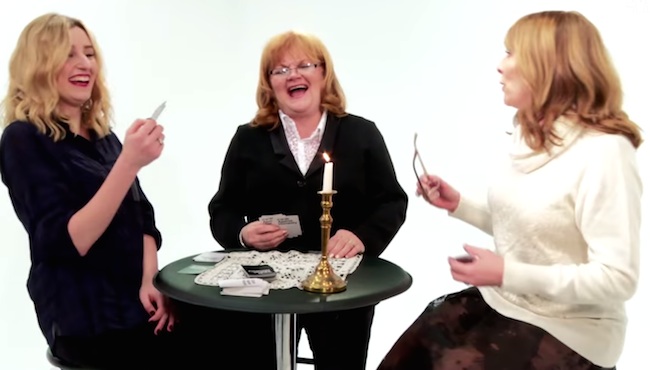 Oh, the humanity!
Unless Downton Abbey becomes really, really desperate for ratings, it's highly unlikely the show will be dealing with anything being inserted into anyone else's anus. Which is why Entertainment Weekly thought it might be fun for fans of the hit British import to watch cast members play Cards Against Humanity, the game in which players try to get friends and family to say dirty words, then laugh while someone explains to grandma what "bukake" means.

Turns out, they were right. Hearing Laura Carmichael (the deceptively hot Lady Edith), Lesley Nicol (the sassy Mrs. Patmore), and Phyllis Logan (Mrs. Hughes? Whoa!) talking about butt stuff, bitches, and balls is kind of a hoot.
The ladies certainly had a good time, and seemed to appreciate the opportunity to work blue, having spent four seasons on a show where a hand-holding scandal could be turned into a two-hour special.