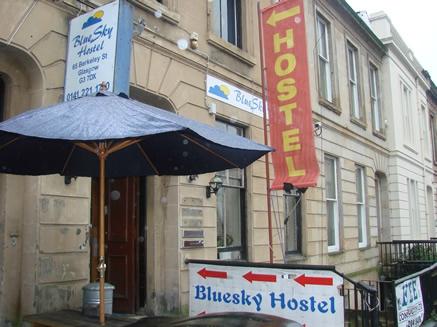 False advertising already! Blue skies? In Scotland?! (via TripAdvisor)
You'll never believe this, but people got into an argument on the Internet. It started with something almost as shocking: a negative hotel review delivered from the safe distance of cyberspace. Lou Taylor had traveled from...somewhere else in the UK, I presume...to stay in Glasgow, Scotland at the Blue Sky Hostel while she attended the Commonwealth Games.
Lou had some issues with Blue Sky Hostel. Quite a few issues, actually, some of which were very specific and extreme, like a complete lack of light switches or outlets, and a small foam mattress that "didn't even cover the springs." Lou wasn't just whining in her Facebook review, Lou was firing broadsides depicting Blue Sky as a Dickensian hellhole. The Blue Sky's owner, Todd Pedersen, had some feelings about that.


This comment could have just been "look at my profile pic and guess whether I care."
You may have noticed that Todd refers to Lou and whomever she was sharing her room with as "you retards" for leaving their door open. We'll get back to that. Now, here's the thing about the Blue Sky Hostel: it's kind of a Dickensian hellhole. But, that's the appeal! It's for ages 18-35 only, it's £50 a person (still pricey, but keep in mind the subprime Olympics are happening in Glasgow right now), and aimed at kids who "want to party," according to Pedersen, which everyone worldwide knows is code for "you're on your own with drunk backpackers having sex near you."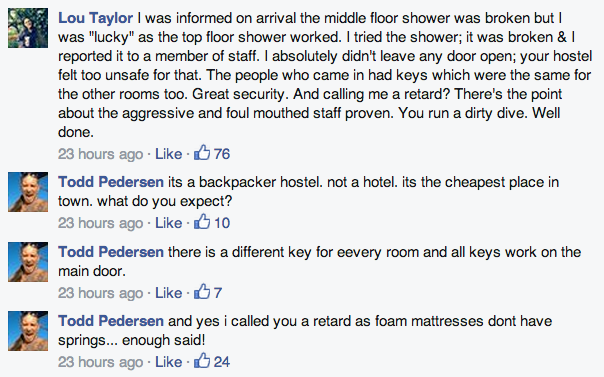 Pedersen's 3rd comment is the epitome of winning the battle and losing the war.

Oh, Russ and Cerilee, I miss those guys. We should all catch up.
Up until this point, I was a little bit on Pedersen's side, because complaining about a hostel is like complaining about the weather: totally fine unless you expect results, in which case you're crazy. I don't even really care who's right about the room situation. Running a hostel is one of the last jobs outside of the cable industry where treating the customers like dirt is acceptable. But the positive attention causes Pedersen to get less and less defensible as time goes on.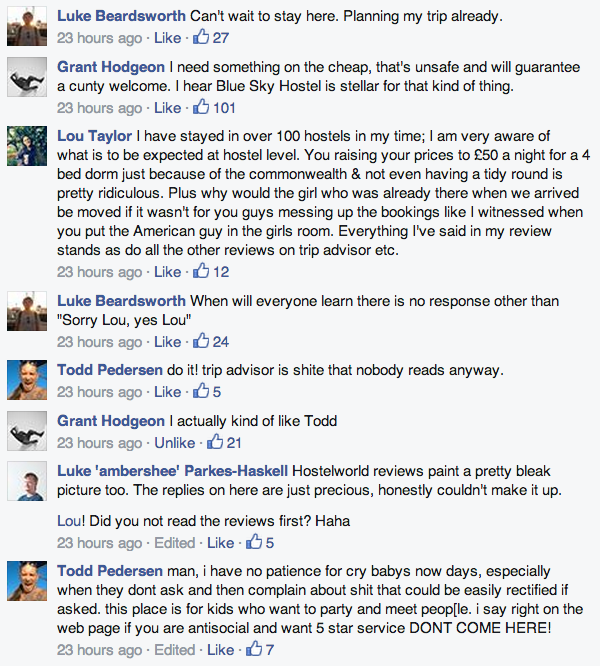 Todd could also use his profile pic as the description of his hostel.
At this point, onlookers are just delighted to have a mudfight to gawk at.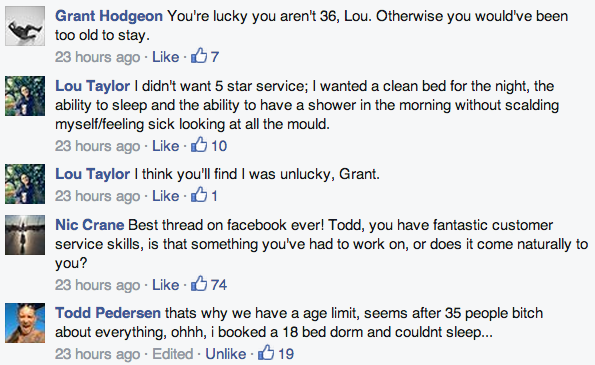 Sleep: not included.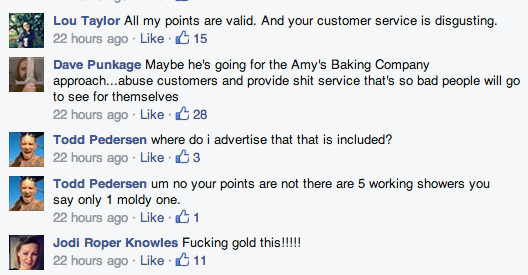 Customer service: also not included.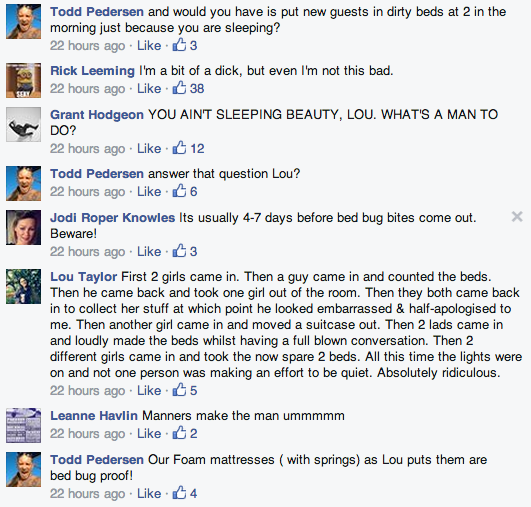 Bed bugs: probably not included.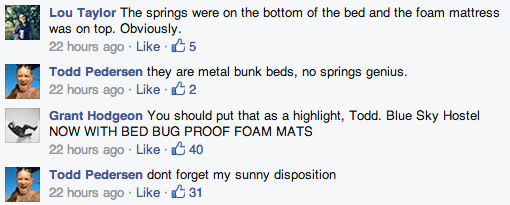 Todd is dominating the bedspring discussion.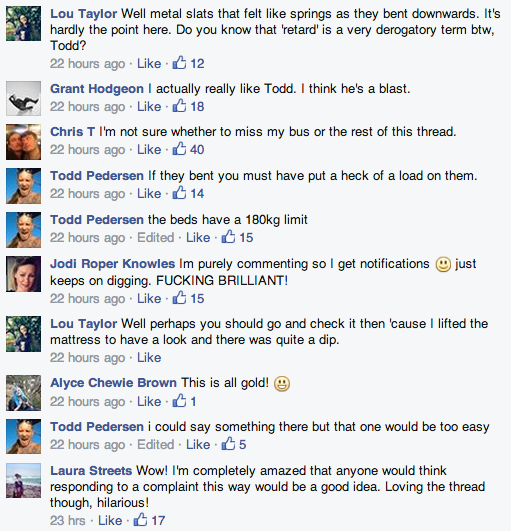 Keep digging that hole, Todd. Maybe you can build a hostel for mole people.
The battle gets worse and worse for Todd. He starts to try to be more reasonable after it's spelled out for him that he called a woman fat online, but it's way too slow and way too late.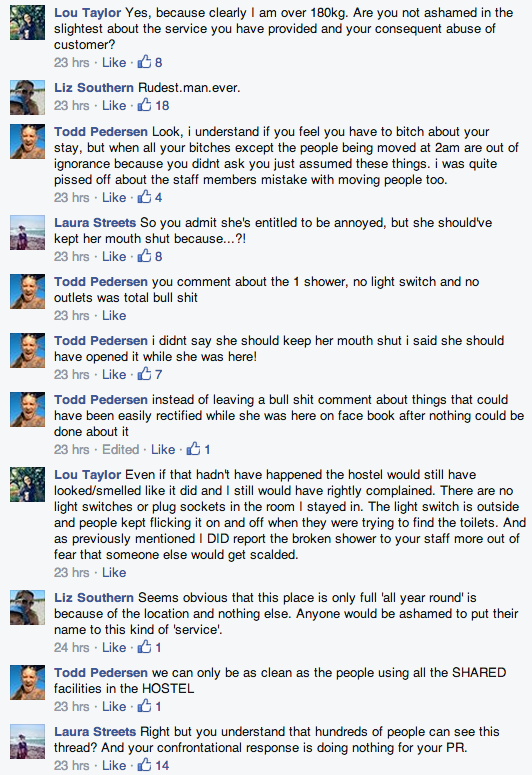 Liz Southern needs to open a hotel called Southern Hospitality immediately.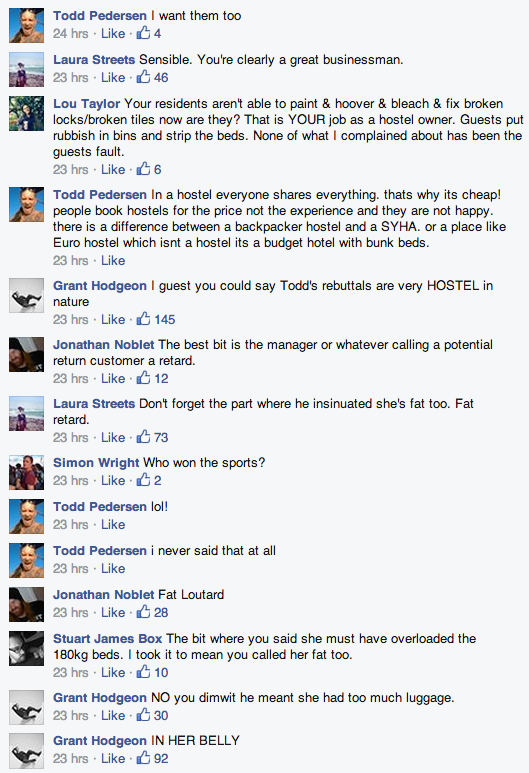 I feel most bad for the friends of Grant who will hear about this day for years.
Gradually, Team Lou begins to claim total victory.

Nothing says luxury like "brand new PVC window."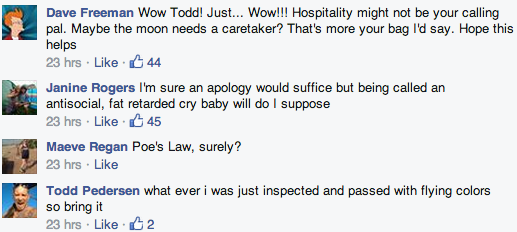 I would eat at a restaurant with a "C" hygiene grade but a sign that read "bring it."
At this point, Todd signs off, presumably because someone called his wife Michelle in panic and explained what was happening online. Michelle appeared shortly thereafter and tried to pretend like the entire thread thus far had not truly happened.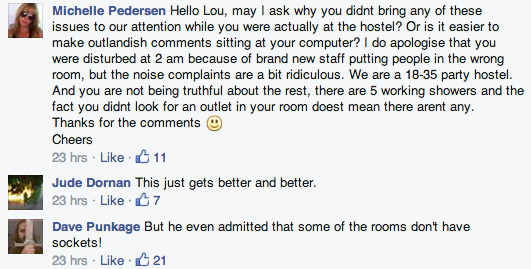 Well, she's better than Todd, I'll give her that.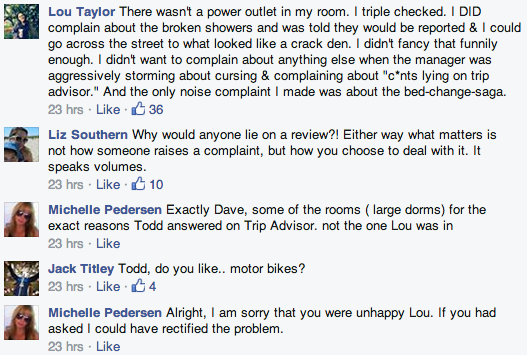 Michelle may not have been helpful, but she's less-rudely unhelpful.


Don't be a hero?! Is Michelle armed?
And before long, Michelle showed why she and Todd are a perfect couple.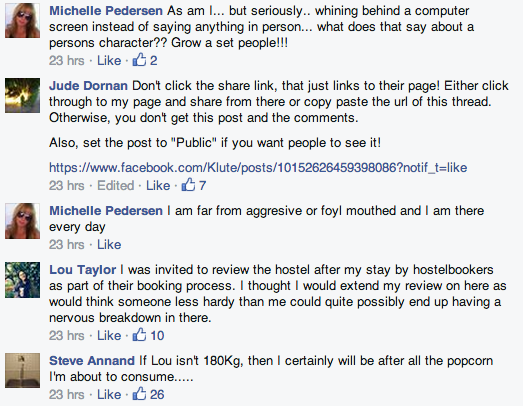 Welcome to Blue Sky Hostel in Glasgow. Shut up and leave.
Only time will tell what will happen to Blue Sky (hint: it will be nothing, because it's the cheapest place in town), but Todd Pedersen has already experienced some backlash, including fake TripAdvisor reviews (TripAdvisor has since policed the page, it appears, in the wake of parody reviews inspired by this fight).

Harold Shipman is a British serial killer. He's a doctor though. Seems too clean.
(via BuzzFeed)
People were inspired to propose new books.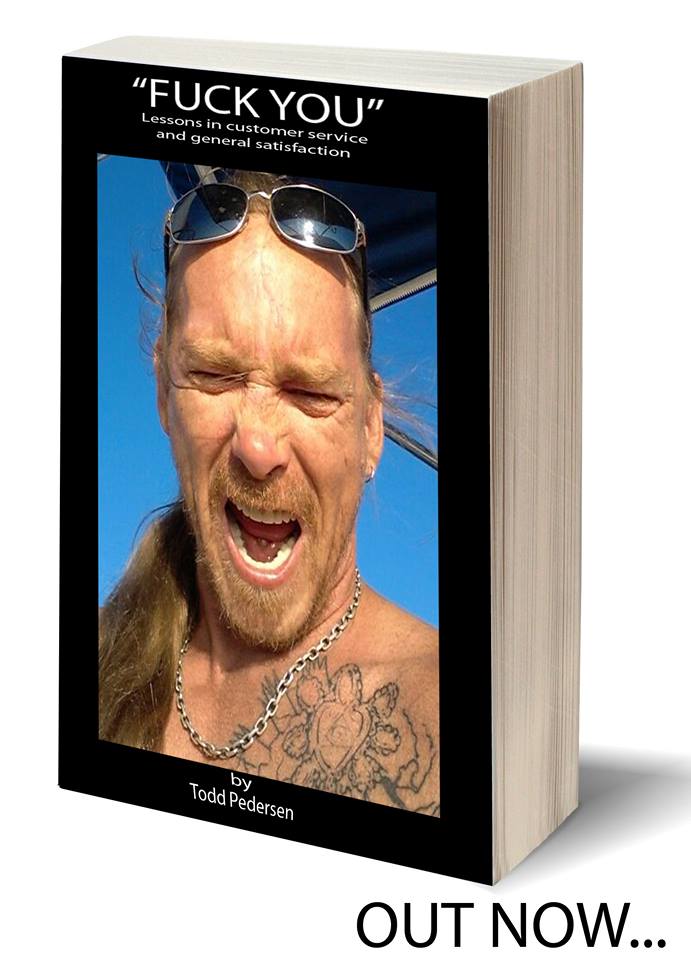 Todd has a little pyramid-eye thing in the tattoo on his chest. Conspiracy!(via Facebook)
People have also uncovered various articles about his past, in particular an incident where he punched a guy in the face so hard, the man fell and injured his head.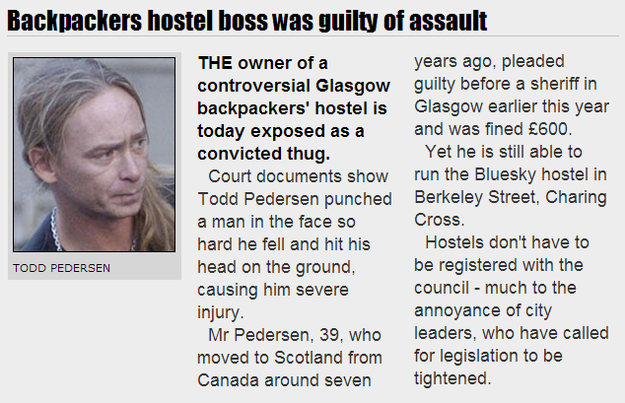 Somehow, I'm not shocked. (via WebArchive)
He also has this on his LinkedIn.


Hey, what do you know? He shocked me.
Said Pedersen in that 2006 Glasgow Evening Times article, talking about Blue Sky and also his old assault charges:
"Blue Sky is an old-school hostel. If you can't afford to pay for a night then you help to clean or something. I'm not going to turn people away and make them sleep on the street...The place is never going to be five-star luxury. We're charging £8-£10 a head. I'm not here to rip people off. I could be charging much more.... [The assault] was a mistake. I was staggering down Sauchiehall Street and two junkies grabbed me and tried to rob me. In the end I had no choice but to plead guilty in court...it's not like I'm some bank-robbing criminal who's running a hostel."
No, Todd. I think we can all agree you're just a regular working thug. Of all the people on the thread, maybe Dave summed it up the best:


Oh, wow. That's a much better way to call someone a fat retard.
(by Johnny McNulty)