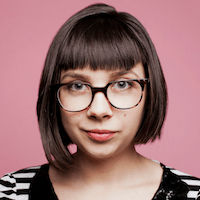 Filed by April Lavalle

|

Jul 28, 2016 @ 10:36am
19-year-old YouTuber Marina Joyce has amassed a pretty respectable following because fans can't get enough of her optimistic, sunshine-y demeanor, and of course her love of glitter. But recently, a stark contrast in her personality has Joyce's fans worried that something serious is going on that she can't talk about on YouTube.
People started becoming concerned after Marina's bizarre behavior in the following video. Throughout, Marina seems to be looking off camera at someone else, is rambling, and seems generally very disconnected.