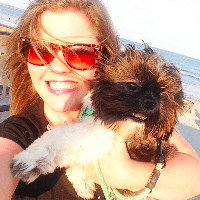 Filed by Missy Baker

|

Oct 16, 2015 @ 5:15pm
Ignorance is bliss. It was said by someone, but you'd probably be happier if you never knew who. Whomever it was undoubtedly understands the devastation the Internet community is feeling today after learning the back story of its favorite meme, the Ermahgerd girl. Like the trauma of finding out there's no Santa, the truth about the Ermahgerd girl is super disappointing and may result in the holidays being ruined for the next couple of years.
The Ermahgerd girl is actually 24-year-old nurse Maggie Goldenberger. Bad news: she doesn't look like that; and worse news: she never did. Goldenberger tells Vanity Fair, the famous picture was taken while playing dress-up with her friends when she was 11 years old. She never wore her hair in pigtails, pulled that legendary vest out of a costume box, and as a goof, put in her retainer.
Oh, and the Goosebumps books we thought she loved so dearly- NOT MUCH OF A FAN! "I was not an avid Goosebumps reader," she said, breaking hearts the world over.
The pic was posted on her MySpace and Facebook pages for years, but it didn't go viral until 2012, when a Reddit user (who didn't know her) came across her pic, and uploaded it with a slogan reading: "ERMAHGERD GERSBERMS, MA FRAVRIT BERKS." The Ermahgerd Girl meme was born, and spin-offs are still rolling out:
Maggie still laughs about her online alter ego. She specifically loves this version of her on the Titanic. (Next she'll be telling us Jack and Rose weren't real!) Goldenberger told Vanity Fair:
"I just can't believe this is my 15 minutes of fame — I was hoping it would come in another form. But I guess you have to take what you can get."
And I guess we have to take finding out (again) that everything we see on the internet isn't real. Let's just pray we never find out grumpy cat is actually a people person.