Fool me once, shame on you. Fool the award-winning journalists at Mother Jones...way to go, dude!

Update 1/21/15: The original author, humorist and Yahoo Tech editor Jason O. Gilbert, has come forward with a post in Medium, "I've Been Plagiarized!" I apologize for not catching it sooner, but as you will see below, we were the only blog to realize he was ripping off someone's content.
On January 14, I wrote in glowing tones about an ad posted by a would-be Ivy League-educated dogwalker to Craigslist in Seattle. I literally called it the "Great American Craigslist Ad," because it so perfectly summed up the sound and the ethos of what viral Craigslist ads should be. Basically, while promising to be so awesome that he would make your dog's nipples hard, he also offered his human clients the benefit of looking down on an over-educated failure reduced to picking up dog poop. It was great.
Unfortunately, not only was the ad fake, but it was copied word-for-word from an ad posted (and sent somewhat viral) all the way back in 2011.
i'm not sure if i'd let this person walk my dog or not http://t.co/nBE9GiDp2a pic.twitter.com/CYQqE03oiM
— Ben Dreyfuss (@bendreyfuss) January 14, 2015
To my chagrin, I clearly thought it was a serious (although hilarious) listing from someone who wanted to walk dogs. That's when Mother Jones, the respected liberal-leaning news journal that has won the National Magazine Award for General Excellence three times since 2000, stepped in to expose the "real" story.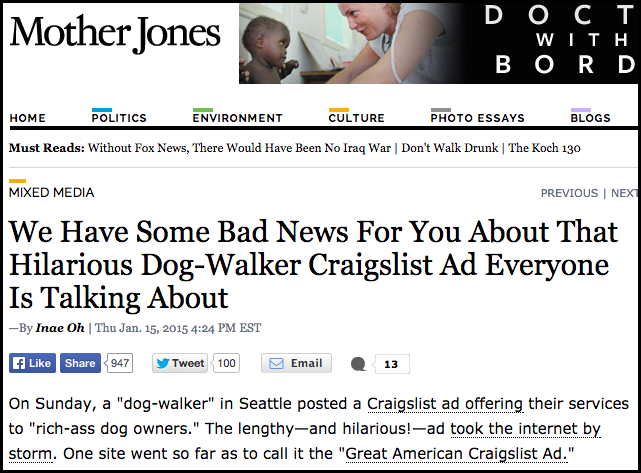 "One site"? It only takes two more characters to write out "Someecards," MJ.
They contacted the author of the ad for an interview, and in his statement to the magazine he revealed that (gasp!) he's not really a dog-walker, and the posting was not legit:
Ummm... I posted this as a joke. I have surprisingly gotten people that want me to walk their dogs. Ive got more marriage proposals and offers for sex more than anything. I prefer to remain anonymous but i will tell you that I am married with a daughter and contrary to my post(that is a joke) I make a comfortable living and I'm pretty much your average joe family man. The reason I posted it is to show what happens when you go to college and stack up student loans and dont have a plan afterwards. you'll turn out having to walk dogs with a shitty outlook on society.
Here's the thing, though—Mother Jones just got 110% played (I got 100% played, but they're news reporters so they really have no excuse). While the man explained why he posted it, no one bothered to ask him if he'd actually written it.
This man wanted to be caught.
That same poster contacted Someecards at 2:05 a.m. this morning, asking us to clarify his story the way Mother Jones did...in pretty indignant language for someone claiming to have just authored a hugely successful viral joke.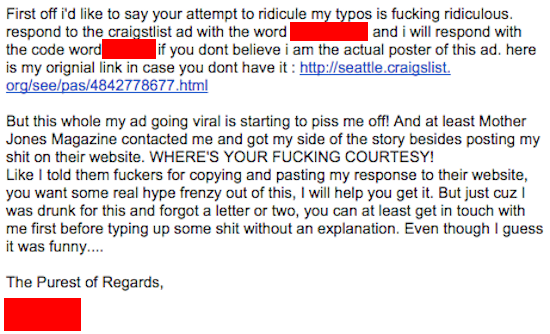 He may not be the author of that ad, but I really enjoy his email writing style.

That email, though, jogged our editor's memory, and he dug up an article published on our website about the exact same ad in 2011 (before he or anyone currently on staff was working here, just FYI).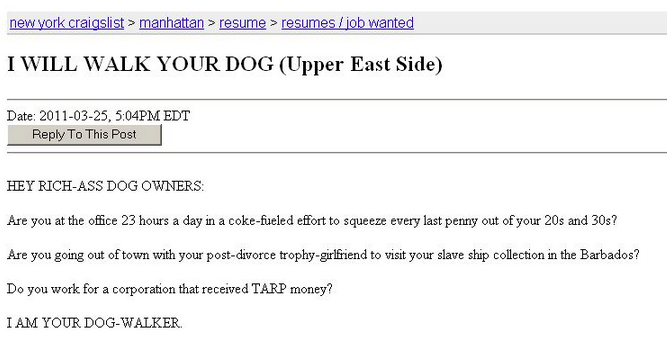 As you can see, the guy who fooled Mother Jones & me added in mistakes like not capitalizing TARP correctly, as well as other "typos."
So, I reached out to the man who had (re)posted the dogwalker ad on Craigslist, and confirmed his identity. Then, I dropped the bomb that I knew the ad was a copy, and showed him the link to our 2011 article.
Me: "Now, this is the Internet and reposting is a time-honored tradition, and Craigslist is anonymous so its hard to give credit, anyway. I don't really mind either way, but did you originally write it then?"
For his part, the hoaxer responded quickly and honestly, relieved that he didn't have to live this lie anymore. If anything, the fact that he had managed to fool everyone seemed to make living in such a stupid world almost unbearable.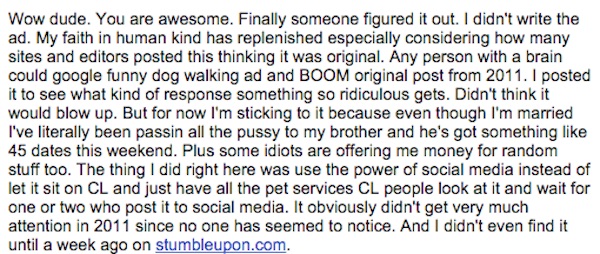 He did it all for the nookie...for his brother.
Sadly, this lesson taught me another harsh lesson in journalism—not only are normally high-quality outlets like Mother Jones very easily fooled, but sometimes you have to publish a story even when there are consequences...like this dude's brother not getting laid this weekend.

I'm sorry to throw your bro's dick under the bus, but I've got a journalist-ish responsibility to let the Web know what absurd Craigslist ads are real.

May I recommend copying one of the many viral dating profiles we've written about for your brother? If your past success is any indication, you should have no trouble plagiarizing your brother into a very active romantic life. At the very least, if you were letting him pretend to be the guy who fooled me, surely he can get laid by pretending to be the guy who fooled Mother Jones.
Now I can go back to thinking everything is a repost, the hoaxer can get back to StumbleUpon to find his next inspiration, and Mother Jones can get back to reporting on Washington politics and leave the not-heavy-hitting-at-all stuff to the professionals.