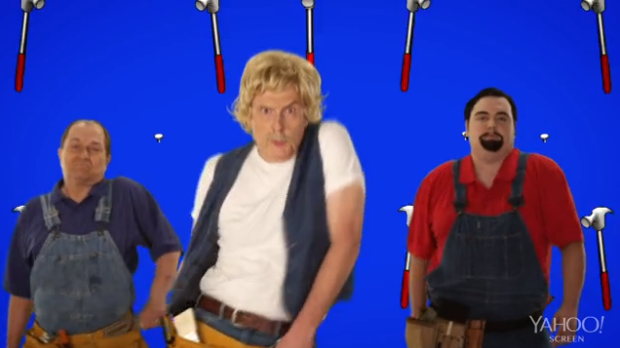 "That's what I love about these pop songs, man. I get older, they stay the same age."
We've reached the halfway point in the 8-day unveiling of all of Weird Al's videos from his new album, Mandatory Fun. Today's entry is "Handy," to the tune of Iggy Azalea's "Fancy." In this video, Weird Al is a handyman who really, really wants to convince you to hire him. 
I'm going to listen to this a few dozen more times to be sure, but my favorite video from this album is still the first that was released, "Tacky" (from Pharrell's "Happy"), followed by "Foil" (from Lorde's "Royals") and "Word Crimes" (I thought there could have been a lot more there making fun of "Blurred Lines").
What's been most impressive, however, is the execution of the entire 8-day rollout. Everyone is talking about it. Blogs are delighted to have high-quality song parodies to write about and watch every day. Weird Al is nailing the Internet, which someone should explain to Fox Business News, because they did a cringe-worthy interview with Al that featured enough cyber-ignorance to embarrass a nursing home.
Check back in tomorrow for whatever Weird Al puts out next.
(by Johnny McNulty)