One man's flight from Cleveland to New York was nearly a one-man flight.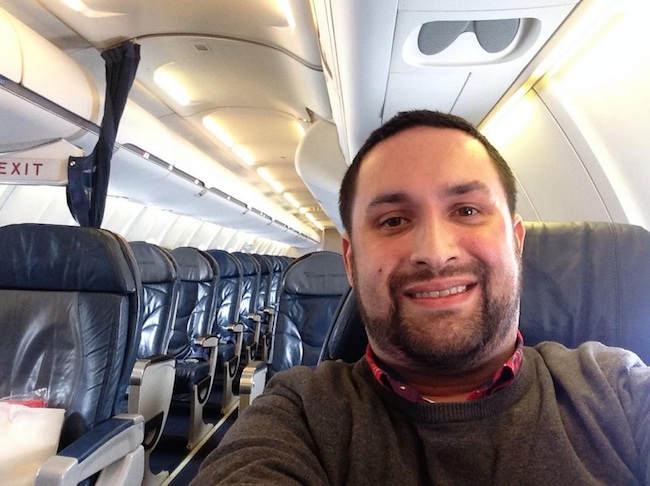 "Flight attendants, prepare Chris O'Leary for takeoff." (via)
The idea of an empty passenger jet seems like either the best flight ever, or the last thing you'd want to see when boarding a plane.
It sure didn't bother Chris O'Leary, who was all smiles after taking his seat on a delayed Delta flight from Cleveland back to his home in Brooklyn and realizing he was the only passenger on the plane. He tweeted out the above photo with the caption, "They rebooked everyone but me on another flight to LGA, so I am literally the only person on this plane."
He was so happy he requested that his personal flight attendants take a picture to commemorate the time he got to experience what it might be like to be a reclusive billionaire, or a traveler who may have recently contracted Ebola.
Have to give lots of credit to the flight attendant, who took one of the best pictures of me in a long time. pic.twitter.com/UcZ8BZLop1
— Chris O'Leary (@ohhleary) January 13, 2015
Not sure how I'd feel in that situation. No doubt, worry-free seat reclining while covered in five blankets sounds nice, but I'd be eventually become paranoid that the other passengers knew something about the flight that the crew and I weren't aware of. Or else I'd start worrying that no one wanted to fly with me because I looked dangerously creepy. Or, even worse, had major B.O.

It didn't take him long to acclimate himself to the baller lifestyle.
Just got a personal safety briefing from my two flight attendants.
— Chris O'Leary (@ohhleary) January 12, 2015
Just as the plane was leaving, however, O'Leary's fantasy flight home came to an abrupt end. Before he could remove his shoes and dig into ten tiny bags of pretzels, O'Leary was informed that they were returning to the gate to pick up one more, party-pooping passenger.