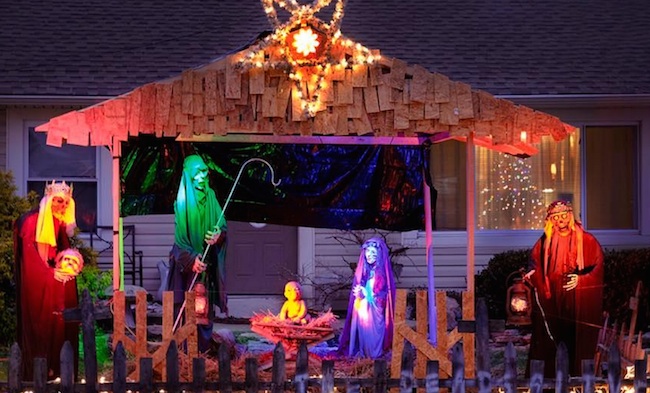 Manger danger. (via)
Ohio resident Jasen Dixon says he wasn't trying to offend anyone with the zombie nativity scene in his front yard, he was just working with the resources available to him. As a manager of a local house, what was available to him were Halloween ghouls and goblins, which he used as stand-ins for Baby Jesus, Mary, and the Three Wise Men. At least he didn't work in a erotic toy store that sold sex dolls.
Not surprisingly, neighbors don't like it and police have told him to take it down. But not because they find Undead Baby Jesus offensive, which is a matter of taste, but because they say Dixon is in violation of local zoning laws.
Dixon thinks he's being targeted, and his First Amendment rights violated, because his display is bumming people out. Even his father isn't a fan. Dixon told Fox News, "My father hates it and anything bad that happens he blames it on that."
But cops say he's not being singled out and has every right to offend, as long as he's doing so according to some pretty strict guidelines. From Fox:
Sycamore Township, which is outside Cincinnati, does not allow structures to be located in the front or the side yard to occupy more than 35 percent of the area. Also, the primary structure must be 3 feet from the street, and 6 feet from the house.

Dixon's holidays aren't totally ruined, though, because he's been given until December 26th to scale back the display or take it down. It' like a Zombie Christmas miracle!