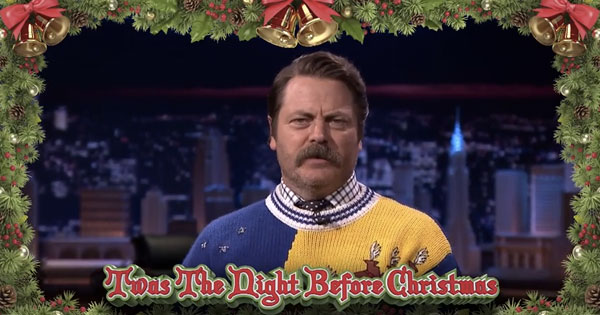 a.k.a. "It Was Christmas Eve"
I'm gonna make this short, because, really, who has the time? Clement Clarke Moore's "Twas the Night Before Christmas" is a decent enough poem, but it definitely runs a little on the long side, at least in part because of its antiquated phrasing and outdated references to things like "sugar-plums" and "coursers" that just confuse modern readers.
Nick Offerman did all us busy holiday revelers a great service and solved those problems when he delivered this updated and shortened version of the poem on the Tonight Show last night. The whole thing is over in 30 seconds flat, which is perfect for my schedule.
I took the liberty of cutting past the 40-second intro and getting right to the reading, because, come on: tick tick tick...