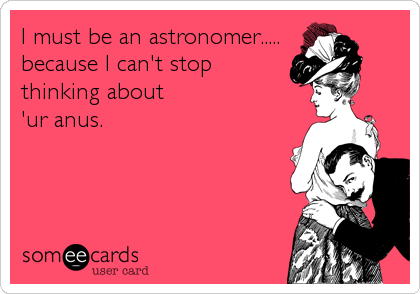 We were just surprised this didn't say "astrologer."
So many questions. What is that apostrophe for? Why the space between "ur" and "anus"? Also, guys, when objectifying a woman in a flirty ecard, avoid name-checking her sphincter, no matter how transfixing it may be. 2 out of 10.
LOL! WE BELIEVE YOU MADE THIS MASTERPIECE ALL ALONE AND BY YOURSELF, GENTLE FORLORN CARD WRITER! CAPITAL 1 OUT OF 10.
We're used to being disturbed by the rampant grammar and spelling errors on cards, but being capital-S "Slaughtered" and cannibalized is definitely new. Bonus points for the gruesome picture choice. 3 out of 10.
This amateur psychiatrist is right: rocking back and forth at a steady pace could be a sign of a mental illness. However, the multiple exclamation points, all-caps "CRAZY," and insistence on using letters and numbers in place of words detracts somewhat from the diagnosis. 4 out of 10.
Don't stare straight into this card or you will be driven to the depths of madness! ESPECIALLY don't try to decipher it—you're not a character in a Dan Brown novel. Plus, it could be some kind of arcane spell that conjures the souleater C'thulu. 0 out of 10.