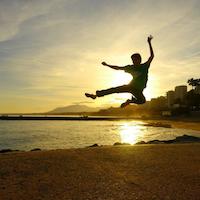 Filed by Mitchell Friedman

|

Feb 09, 2017 @ 8:35am
As one little kid likely mourns the loss of his little teddy bear, Cork Airport in Ireland is celebrating their newfound viral fame—as they desperately try to reunite fluff with friend.
The lost "pink teddy" bear immediately became the airport's social media darling as they tried to spread the word and get him home to his "rightful little owner."
Hope he doesn't actually belong to a humiliated 40-year-old man too embarrassed to claim him.
After Teddy had his "dinner and tea" on day one of the search, the airport got a little more desperate—putting him to work with a pen and paper.
Day 2 at Cork Airport and Teddy is desperately trying to make contact with his family. Please contact us ASAP if you recognise Teddy. We are looking after our VIP royally in the meantime.

Posted by Cork Airport on Monday, February 6, 2017
"When we found Teddy alone in our boarding gate area, we knew he would be somewhat lonely," wrote the head of Cork Airport communications to ABC News, Kevin Cullinane, seizing on the viral moment with a vice grip.
Because when you're an airport—social media points are precious and so very rare.
"Rather than be home alone, Teddy is now part of the Cork Airport Communications Team and is enjoying our award-winning customer service while we all await an emotional reunion any day soon," said Cullinane.
On day 3, Teddy was still abandoned.
On day four, the teddy bear got another job. And a tiny little coat.
Day 4 at Cork Airport: Teddy is keeping busy helping Aer Lingus with baggage while waiting to be claimed back by little owner. Please keep up the sharing as we all love a happy ending.

Posted by Cork Airport on Wednesday, February 8, 2017
If you know how to reach the teddy bear's owners, maybe ask them if Cork Airport can keep him. They've already made him a star.