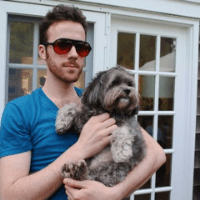 Filed by Miles Klee

|

Mar 25, 2017 @ 3:23pm
One of the silver linings of the disastrous Trump administration is the fact that almost everyone in it, including the president, has left an embarrassing social media trail. For White House Press Secretary Sean Spicer, that first became clear when people found out that he had been waging a lonely war against Dippin' Dots, repeatedly claiming they are not the ice cream of the future.
Dippin dots is NOT the ice cream of the future

— Sean Spicer (@seanspicer) April 8, 2010
We all had a good laugh about that at the time, but now it appears Spicer may be an expert on the future after all. Because another old tweet unearthed by eagle-eyed internet sleuths this weekend seems like it could have been written today, even though it was posted back in 2012. This is straight-up eerie:
Wish I could be on the golf course but have to work - must be nice to be President

— Sean Spicer (@seanspicer) July 29, 2012
Having to work yourself to death while the president goes golfing yet again? That's literally an exact description of Spicer's professional life. WTF.
In fairness to Spicer, though, he's hardly alone in owning himself from the past. His boss is wayyyyyy better at it.
Just shows that you can have all the cards and lose if you don't know what you're doing.

— Donald J. Trump (@realDonaldTrump) January 3, 2013
God bless Twitter.