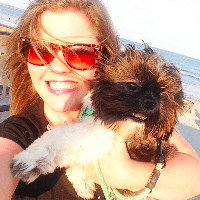 Filed by Missy Baker

|

Aug 03, 2016 @ 9:51am
Believe it or not, the Internet was not created to give you panic attacks and depression. Sure, it seems that way with the constant terrors, angry political rants, and endless parade of Kardashians, but it's not all bad. Some cute and furry healing is coming your way. Here are 15 adorable Instagram accounts that are like a warm hug for your eyeballs.
1. Follow @prissy_pig to see the adventures of the cutest piglet family you ever did see.