The semi-annual Apple Special Event, a two-hour long infomercial for the company's latest doohickeys, was streamed live on Wednesday. This year's event debuted the iPhone 7, making you feel bad about your janky-ass iPhone 6 by introducing new features you didn't even know you needed. While Steve Jobs and his turtleneck are greatly missed, CEO Tim Cook was a masterful Master of Ceremonies, riding up to the event singing with James Corden and Pharrell.
https://www.youtube.com/watch?v=NLCa9dCrZ14&feature=youtu.be
Here are the seven things you need to know about how you're going to be spending your money this holiday season.
1. You'll have to choose between listening and charging.
After much speculation, Apple confirmed the rumor that they would be bidding farewell to the beloved earphone jack. The iPhone 7's fancy earphones now plug into the lightning charging port.
If you can't part with your old expensive Beats by Dr. Dre, there's an adapter, but it won't stop Apple from trying to make you adapt.
---
2. Air Pods are the new earphones.
This distractingly handsome man is wearing Air Pods, wireless earphones that Apple is pushing to replace your old earbuds. These little buds—made ridiculously easy to lose with the absence of a string even keeping them together—are so powerful that they need to be recharged after five hours.
That's right, you have to charge your headphones, but the case also has an extra battery, so you're going to have to charge your earphone case to charge your earphones.
Apple just keeps making life easier, not to mention ever closer to the universe of Her.
http://giphy.com/gifs/sofia-coppola-lost-in-translation-spike-jonze-Z3fNGG3534aYw
---
3. Feel free to get the iPhone 7 wet and dusty.
It's now safe to sit in the Splash Zone at Sea World with your iPhone (though it won't save you from the guilt of going to Sea World). The iPhone 7 is both water and dust resistant, so prepare for your Instagram feed be flooded with even more beach selfies, your friends' hot dog legs closer to the water than ever before.
---
4. Super Mario Run is the new Pokémon Go.
https://twitter.com/RealShigeruM/status/773570842391351296
Mario, Luigi, Wario, and Waluigi are coming to your hand with a new game, Super Mario Run, that's set to give Pokémon Go a run for its money. People were pretty psyched about the fact that you can play it with only one hand, running through tunnels while holding onto a subway pole or holding hands with someone you love.
You can go to the App Store RIGHT NOW and have them notify you as soon it comes out.
---
5. If you're not over Pokémon Go, you can incorporate it into your workout.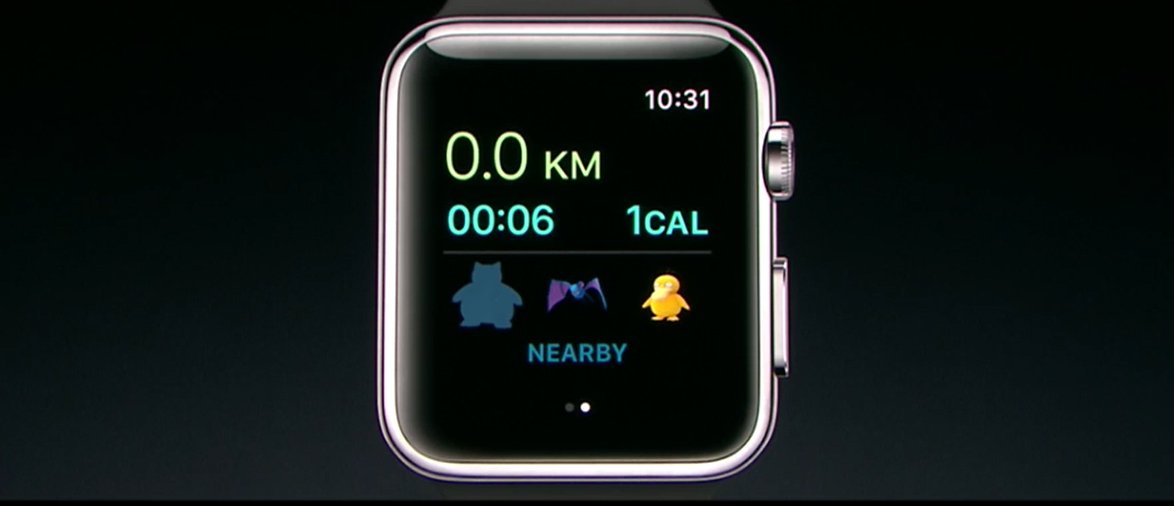 To ingratiate the augmented reality of Pokémon Go even further, Pocket Monsters no longer exist solely on your phone, but now on your wrist. Pokémon Go for Apple Watch lets you hatch eggs while you walk, telling you the calories burned to more further incentivize getting off the couch.
---
6. You can full-on swim with the Apple Watch Series 2.
In all the time Katie Ledecky had between finishing her race and waiting for the silver medalist to arrive, she could have checked her email and caught some Pokémon on the new waterproof Apple Watch.
---
7. The iPhone 7 Plus has two cameras on the back, as though people take photos that aren't selfies.
http://giphy.com/gifs/iphone-7-apple-keynote-2016-3o7TKIwdlXdUkRza2A
For the fancy Instagrammers, the iPhone 7 Plus has both a wide angle and telephoto lenses with a heightened zoom capability. It might be enough to make you want to take a photo of someone else for once.
Now that you've seen the products, revel in the reactions.