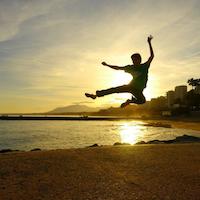 Filed by Mitchell Friedman

|

Apr 24, 2017 @ 8:17am
There are hundreds of amusing, hurtful ways to shoot down dick pics, but whoever runs Samsung's Twitter account just made them all obsolete.
After making the dangerous request that everyone on the internet send them the first photo they took with the Galaxy S8 (dangerous but not, like, your phone's gonna blow up dangerous—that was the Samsung Galaxy Note7), they received the world's most predictable response.
At least there was no photo evidence. Samsung needed just one emoji to handle the situation.
Yes, that is a microscope. Yes, it's also available on IOS. Keep it copied at all times, and ready to paste into any dick pic situation.
Naturally, Twitter applauded with one trillion hand clapping emojis.
I love when twitter accounts from companies are actually funny and get it

— Jewg (@AwittOfficial) April 22, 2017
I'm switching to samsung just because of this tweet

— mistermistyeyed. (@Jemtayag) April 23, 2017
Looks like PR's going a lot better this time around. Congratulations, Samsung. All it took was a dick pic.
Looks like it's not just Samsung's phones giving people burns.

— Conner Fritz (@connerfritz) April 21, 2017
Well, mostly.