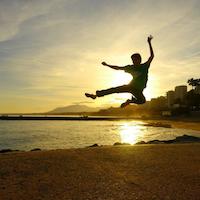 Filed by Mitchell Friedman

|

Dec 07, 2016 @ 11:45am
On Wednesday, Donald Trump won TIME's "Person of the Year" cover, Twitter exploded, and now that it's been a few hours we can all take a deep breath and dive headfirst into some crazy conspiracy theories about it. First of all, take another look at his cover photo.
Notice anything? No? Because you're not deep into the illuminati? How about now:
Now you see it! Trump's got some devil horns.
While it might seem like a pure coincidence to you, plenty of people on the web were utterly convinced. Of course, people on the web were once utterly convinced that you could charge an iPhone with an onion, but GQ makes a pretty interesting argument that this was intentional.
We know just how much thought goes into each and every detail of a cover photo, layout, etc. A simple shift left, right, up, or down would have eliminated this convenient graphic design line-up, so it's really hard to think this was an innocent accident.
As a long-standing print magazine themselves, they have some credibility here. But forget them, here's some people with blue check marks on the internet who are utterly convinced.
As a bonus, look at this rating Trump got on IlluminatiSymbols.info.
And if that doesn't seem productive, well, fine. Here's an article from TIME defending itself with pesky "evidence" of the fact that this happens all the time, with an article called "35 TIME Magazine Covers That Appeared to give People Horns."
"Any resemblance to cats, bats or devil horns is entirely coincidental."