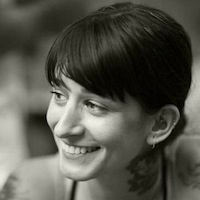 Filed by Jessie Dean Altman

|

Mar 31, 2017 @ 2:15pm
If you've looked at Twitter today, you might have noticed that the egg, which was the default avatar for anyone who didn't choose a user picture, is gone. Instead of the egg there's now a sort of silhouette of a person with a free-floating head, kind of approximating a human. According to their blog, Twitter changed the avatar to encourage people to pick photos, presumably in an attempt to cut down on random strangers who harass other Twitter users. They wrote,
We've noticed patterns of behavior with accounts that are created only to harass others – often they don't take the time to personalize their accounts. This has created an association between the default egg profile photo and negative behavior, which isn't fair to people who are still new to Twitter and haven't yet personalized their profile photo.
However, this change doesn't address the abusive behavior of the human behind the profile. And of course Twitter users pointed that out.
Users: Twitter I am tired of egg avatars telling me to kill myself
Twitter: Ok now they are not eggs anymore

— Shrubs (@sproutdash) March 31, 2017
TWITTER Those egg accounts that spew venomous insults all day-
ME You banned them?
TWITTER -we made their avatars look like car headrests

— Dave Itzkoff (@ditzkoff) March 31, 2017
Really, Twitter? The egg is not the problem any more than a hoodie is the problem.

— Randi Mayem Singer (@rmayemsinger) March 31, 2017
Person: Hey Twitter! I'm being harassed by the man in the red shirt.

Twitter: Hey man. Change your shirt.

— Orli Matlow (@HireMeImFunny) March 31, 2017
"Hey I have a lot of problems with newly created egg avatar accounts"
"We hear you. Now the default avi isn't an egg!"
"That's not what i

— Silk (@SiIkenseven) March 31, 2017
Twitter To Replace Egg Avatar With Confederate Flag

— Rebecca Fishbein (@bfishbfish) March 31, 2017
Other Twitter users just straight up missed their egg avatars.
WHERE DID MY FUCKING EGG GO

— Punished Dark Egg (@DarkUchiha420) March 31, 2017
THE TWITTER ICON???? IS NOT????????????? AN EGG ANYMORE?????????????????????????????????????

— Jaltoid (@Jaltoid) March 31, 2017
So now people can get harrassed by gray decapitated humanoids instead of eggs. Wonderful! PROBLEM SOLVED!