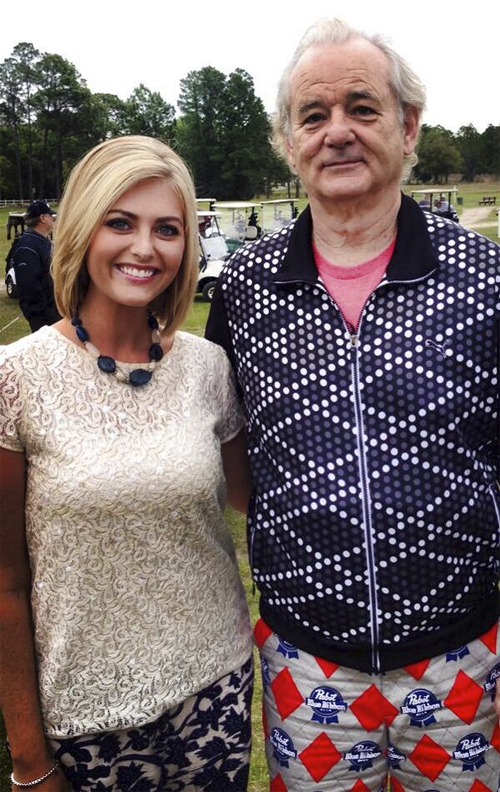 Probably the only pants that could have distracted from that sweater.
(via @TravisDgibson)
Bill Murray was at the River Bend Golf Links in Jacksonville, Florida today to play in the annual Murray Bros. Caddyshack Charity Golf Tournament that he and his brothers started to raise money for various charities and hang out with each other in intensely bizarre-looking clothes while hitting a little white ball around a nicely manicured field. I can't say who officially won the tournament, but I'm pretty sure Bill Murray's Pabst Blue Ribbon checked pants won it all in spirit.
Here's Murray looking uncomfortable in front of a TV camera, while looking like an amazing pile of laundry:

"Big hitter, the Dalai Lama."
For those of you who are only 8th level Bill Murray enthusiasts and lower, the lifelong golf player has a long history of sports fashion that can only be described as... What's the right word? I think it's "awesome." It's either "awesome" or "insane." It's one of those two. Or maybe it's both. Anyway, here's some of his biggest hits:

Are those sexy ladies on his pants?

Of course they are. That was a dumb question.

You probably can't tell, but Bill Murray's somewhere in this photo.

Of course his hat wears a hat. Doesn't yours?

If you turn your monitor to black and white, this almost looks normal.

Well, it's functional at any rate.

Peter Venkman on the bottom, Rod Stewart up top.
(by Dennis DiClaudio)