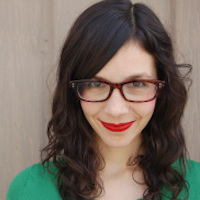 Filed by Meg Favreau

|

Mar 07, 2016 @ 6:05pm
Trends in fashion and beauty are often counterintuitive and reactionary, like going from skinny jeans to palazzo pants. Thus, it shouldn't be surprising that the trendy new makeup product is "face gloss"—a sticky, shiny product that's supposed to make your face look... well, kind of like it doesn't have makeup on. Over at Good Housekeeping, makeup artist Laramie Glen is quoted as saying that face gloss is a reaction against caked-on matte makeup, and provides a "fresh, youthful, and dewy" look.
Basically, it's pitched as an alternative to shimmery highlighters, without the shimmer. But it can also kind of look like you spent money on a product to make your face look greasy. DIY tip: your face can look greasy all on its own, free of charge. Here's a video from Birchbox that features someone applying face gloss, among other things. Skip ahead to 1:16 if all you care about is glossy faces: