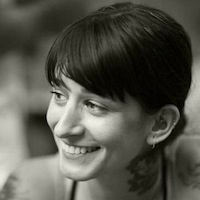 Filed by Jessie Dean Altman

|

Mar 14, 2016 @ 4:10pm
The prize for THE WORST way to show plus-sized items of clothing has been awarded, and it goes to the shopping website/app Wish. The site shows a typically thin model fitting both her legs into one leg of a pair of XXXL shorts. But why? Why? And how did they not think this would set them up for Internet backlash?
After seeing the pair of shorts on HelloGiggles, fashion designer Christina Ashman (of Interrobang Art & Fashion) decided to take matters onto her own legs. On Friday, she posted a picture on Facebook of the ad side-by-side with a picture of her wearing a floral skirt over just one leg. The caption reads: