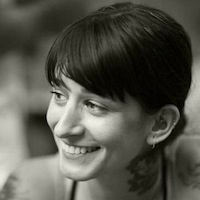 Filed by Jessie Dean Altman

|

Mar 17, 2016 @ 2:20pm
Bowling Green State University student Sara Petty (@_spetty on Twitter) recently noticed a lot of people tweeting about what women who weigh over 200 pounds should never wear. The people weren't tweeting to her directly, but she found herself getting fed up with the constant criticism and arbitrary rules for bodies that are not thin. So she took their advice, and then threw it in the garbage where it belonged. Then, on March 9, she put on the very things she was told a person of her size and shape should never wear, took pictures, and tweeted them with the caption: "Girls: Wear whatever the hell you want."