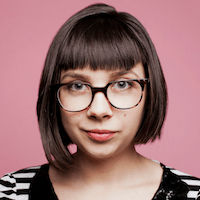 Filed by April Lavalle

|

Oct 13, 2016 @ 8:40am
Halloween is only a few weeks away, and if you are still struggling to figure out what you should be, why don't you just cover yourself with glitter and call it a glitter mask? Teen Vogue made a video breaking down how to get this sparkly look, so when people ask what your costume is, you can just say you're a person who smashed their face into a bunch of art supplies.
A totally sensible look for Halloween night or, you know, just whenever.
The upsides to the glitter mask is that you will totally stand out on Halloween. The downsides are that you will definitely get something in your eye and will be finding specs of glitter on your pillow case until next Halloween.