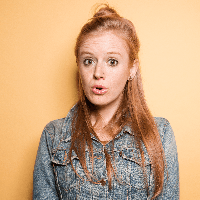 Filed by may wilkerson

|

Jun 12, 2017 @ 5:40pm
Have you been working on your ideal beach bod all winter, but no matter how hard you try, your chest hair just won't grow?? Well, don't worry! Because you, too, can now achieve that highly-coveted "hairy dad bod" look for your next trip to the beach. Thanks to this "sexy chest one-piece swimsuit" available on Beloved Swimsuits! AND IT'S ON SALE. For only $44.95, this highly-realistic dad bod can be yours!!!!
Don't have the cash? Well, if luck's on your side, you might just win one:
IS THIS ALREADY THE BEST SUMMER EVER OR WHAT?!
Here's a little preview of what you can expect when you strap on this hairy spectacle in front of your kids:
And yes, the suits are currently only available in "women's" cut (sorry, men!). But fortunately, gender is a construct and you can wear whatever bathing suit you damn well want.
YES, MEN CAN PARTAKE IN THIS HAIRY GLORY, TOO! Now that's equality!
This is all very exciting. But for some reason, not everyone is as excited as we are. In fact, many are just plain horrified.
👀👀🤤 This suit is badly in need of Nair

— Lanna (@Lannatexasgal) June 9, 2017
'The sexy chest one piece swimsuit' is not sexy… at all

— Haamid Grube (@ruqiqulezox) June 12, 2017
TO EACH THEIR OWN, OKAY PEOPLE??
some people just want to watch the world burn....wtf

— SchneeimSommer (@Barbarian1604) June 8, 2017
Wow.
But not everyone is a hater. Some people are even "kind of in to it"!
idk............. kind of into it

— Andrew Lowe (@andrewlowe) June 8, 2017
While others are SUPER in to it.
I want that hairy chest swimsuit someone buy it for me.

— Appapapapa (@Destisaurus) June 11, 2017
wow never added an item to my cart so fast

— Jess Johnson (@Johnson_J18) June 8, 2017
There's still time to order one (for yourself) for Father's Day! Instead of giving your dad a gift, give yourself the gift of a dad bod.