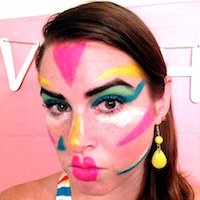 Filed by Ashley Bez

|

Aug 26, 2015 @ 5:55pm
A special effects makeup artist brought a whole new meaning to being a dog person.
Today is National Dog Day! What better way to celebrate than to transform your face into an exact replica of your favorite canine? If that idea sounds like something you want to do, then let the master makeup artist Ilana guide you through this strange adventure. As you can see above, she has literally turned herself into her Siberian husky Ivy. Well, her face at least.
Just so you know there's a person under there, here's a mid-transformation shot: