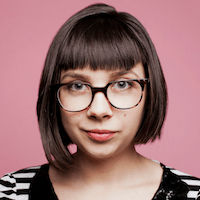 Filed by April Lavalle

|

Jun 13, 2016 @ 7:45pm
When Jeffree Star called out Kylie Jenner for her crappy lip glosses back in April, the world rejoiced, named Star its makeup-adorned savior, and all but threw him a parade for taking on Jenner and her giant lips. Now one beauty blogger is calling him out for some shitty behavior in a 40-minute long, anti-Jeffree video that makes Star's takedown of Jenner look like he sang her a lullaby.
Beauty blogger Stephanie Nicole is known for her super honest and detailed reviews of makeup products and brands, which amassed her a loyal fanbase. In her new video, she spends the first 20 minutes talking about how much she dislikes Jeffree's products, and the last 20 minutes talking about how much she dislikes Jeffree himself. Girl did her research. Citing incidents from 10 years ago up until the present, she brings up his sexist and racist language complete with screenshots, videos, and pictures. She is more prepared to take down Jeffree in this video than you ever were to give an oral presentation in high school. Grab a snack and put on your Snuggie, because this is going to be a long one.