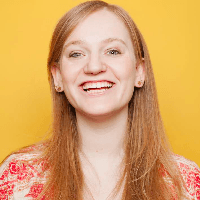 Filed by Orli Matlow

|

Dec 15, 2015 @ 10:50am
Rebecca Swift uses the superpower of makeup to transform into any celebrity. She is a professional makeup artist, singer-songwriter, and frickin' shapeshifter. Equipped with her face paint and talent, Swift is basically Mystique from X-Men, taking on many different forms.
For reference, this is what she looks like as herself:
Here is some of her trippiest work:
1. Zooey Deschanel