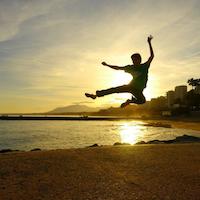 Filed by Mitchell Friedman

|

Mar 15, 2016 @ 4:25pm
Michelle Elman is something of a scar expert. She's got her own, yes, from 15 surgeries tied to a "brain tumor, a punctured intestine, an obstructed bowel, a brain cyst, and a condition called hydrocephalus." But she's also an expert in body positivity, using her own experiences to create Mindset for Life and help countless folks overcome their own struggles with body image.
This inspiring human recently utilized her expertise to conduct several touching, sensitive interviews with other thoughtful humans about their scars, compiled in a video called "Scarred Not Scared."