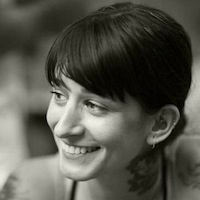 Filed by Jessie Dean Altman

|

May 04, 2016 @ 8:59am
On the Thursday before her senior prom, 17-year-old Skyler Davis of Ohio got a spray tan. She was happy with the result, and left feeling good. Ten minutes later, she looked like this:
The reason? A guy, of course. Typical. Well, okay, the real reason for this travesty is that Davis and her boyfriend had a minor disagreement, which made her tear up a bit. Only then did she realize—with horror—that the tears had cut through the new tan, leaving her looking pretty much exactly the opposite of how she wanted to look for prom.