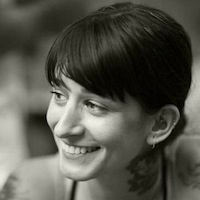 Filed by Jessie Dean Altman

|

Mar 01, 2016 @ 8:18am
When Shalom Nchom was nine years old and living in Nigeria, an accident involving a pan of hot cooking oil left her with burn scars on her face, neck, chest, head, and hands. Over the years, she learned to do her makeup expertly to hide the scars but never really felt happy until she learned to love how she looked without makeup, too. She now posts makeup tutorials on YouTube under the username Shalom Blac.
Last week, she added her contribution to the "Power of Makeup" challenge, which involves making up one side of the face while leaving the other side completely natural. Her video showcases the transformational aspect of makeup, but she says she also hopes it inspires people to love their faces just as they are, makeup-free.