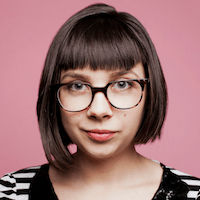 Filed by April Lavalle

|

May 02, 2016 @ 7:01pm
Let designer and model Kay Pike be your inspiration on those days where you feel too lazy to even run a comb through your hair in the morning. For the past few months, Pike has been doing live streams on Twitch of her body paint transformations into various characters. Inspired by the new Batman Vs. Superman movie, she recently did a fifteen-hour live-stream of her painting herself into the perfect Superman. If you don't have fifteen hours to spare today, she also made the entire video into a time lapse.
Superman Bodypaint Timelapse

Beautiful Music composed and performed by: @laurenceowen www.laurenceowen.co.uk http://bit.ly/1UTxQBL This is what I painted last time on https://www.twitch.tv/kaypikefashion and I am painting again today. This project marked a very emotional point in my life. I believe forever now, whatever your dreams are in life you must Dream Big #superman #schiz0mania #manofsteel #comic #hero Superman Batman v Superman: Dawn of Justice Scott Snyder Jim Lee Charles Soule Tony Daniel BATT Matt Banning Tomeu Morey Emanuela Lupacchino #paint #painting Twitch#twitch #twitchtv DC Comics #DCcomics #dawnofjustice #sillyfarm #makeupartists #makeupartistry #makeupartistsworldwide #bodyart #bodyartists #facepaint #faceartists #facepainting #facepainters #faceandbodyart #faceandbodypainters Fxcosplay #comic #comicbook ****http://www.sillyfarm.com Silly Farm Supplies the #fabmakeup Magic blue is what made Superman's illusion work. Also used FAB brilliant blue, black, seafoam ,sky, rage red, bright yellow. 6 Paints to rule them all.

Posted by Kay Pike -Designer/ARTIST/Model on Saturday, March 26, 2016