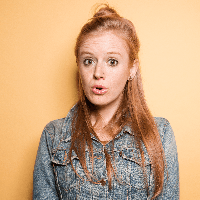 Filed by may wilkerson

|

Mar 13, 2017 @ 3:00pm
Everyone's favorite "urban" clothing store Urban Outfitters has finally pushed the limits of what is considered "clothing" too far. Even for them.
The "Extreme Crop Tank Top Shrug" by Out From Under is the perfect garment for people wishing to cover their clavicles, and only their clavicles, while letting their boobs and full torsos remain unencumbered by fabric. This "clavicle napkin" (my words) costs $16.
The "shirt" has since disappeared from Urban Outfitters' website. But not before screenshots made the rounds on Twitter.
And people have questions.
@alanna this is maybe not the most important question here but: wtf is with the choice to style this with an underwire bra???

— Amanda Mull (@amandamull) March 10, 2017
@alanna @amandamull also $16 for like 15% of a shirt?! you know they're gonna put it on sale for $5 in a week

— Rebecca Baird-Remba (@thecitywanderer) March 10, 2017
A few imaginative souls have theories about what it is and what it's for.
@alanna When you want to go in public in just your underwear but someone said you HAVE to have a shirt.

— Leah Petersen (@LeahPetersen) March 10, 2017
Ohhhh, it's for "brave souls." That explains everything!The company themselves offered up this description, before it was taken down, according to Allure:
The ultra-sexy way to layer with this teeny cropped tank top by Out From Under. Cropped above chest for the coolest layered look featuring a crop neck and thin shoulder straps.
My reaction to this story can only be accurately summed up by Ross from Friends: