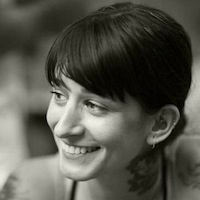 Filed by Jessie Dean Altman

|

Apr 13, 2017 @ 1:38pm
Hello, here's a pair of jeans that unzip down your butt crack. (Just what you've been saying you needed, right?) According to Elite Daily, this pair of jeans is the result of a collaboration between Levis and ultra-expensive brand Vetements. Why the zipper down the ass? Well, we're not sure, but that's just how fashion is sometimes.
Maybe it's to let some air in on a particularly hot day. Maybe it's to let some air out after a really big bean burrito. Maybe it's because the companies were thinking, "What could we possibly do that hasn't been done before? Oh! Butt zipper! It's so crazy it just might work!"
And it did work, in that the jeans are apparently selling for $1,870.
Not everybody is on board with the jeans-as-chaps look, but they have their fans.
Wow. Vetements x Levis!! I'm here for this collab.

— marz (@bbbyface1) March 15, 2017
There's also a shorts version.
Oh, and don't worry, because yes, they come in black, too. So many styles and colors in which to openly expose your butt to all the world.