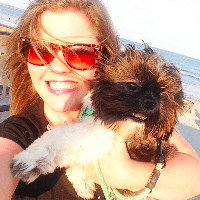 Filed by Missy Baker

|

Jun 19, 2015 @ 9:20am
It's Father's Day this Sunday, and you can't pay a tribute to Dads without recognizing them for what they do best: embarrassing their kids.

Pictured: The author and her father, just hours away from embarrassing her.
This ritual has been taking place since the dawn of time, when the first cave man grunted something mortifying in front of his cave son's new girlfriend. ("Him still wet cave bed HA HA.")

These are the memories that never leave you, no matter how much therapy you get. I don't recall my dad teaching me to ride a bike, or reading me a bedtime story, but I'll never forget when he burst into my after-prom party and yelled, "HEY, YOU GUYS HAVING SEX IN HERE!?"