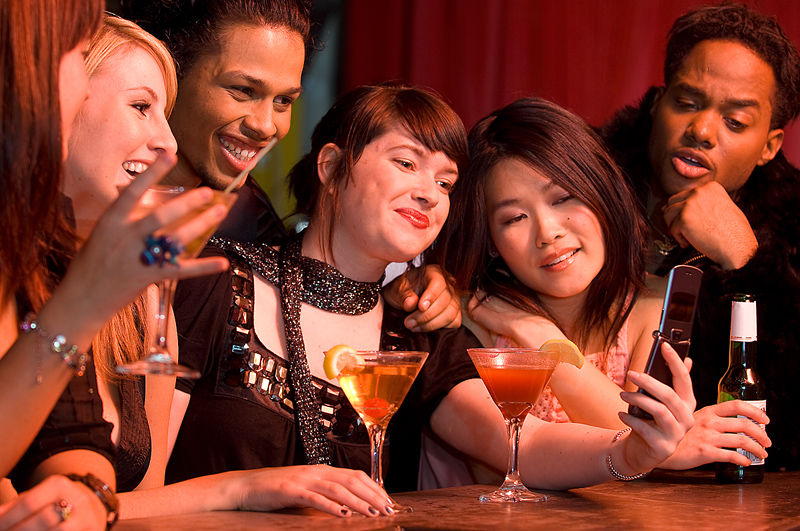 It's January again, and this year it seems like more people than ever are trying to start the year healthy by going dry for a month. There have been arguments for, and arguments against. But going completely alcohol-free in January is all wrong. It's easy to simply cut back on your drinking if you follow these 7 simple, easy-to-follow rules to get your drinking under control for the month (with 14 notable exceptions).
The rules!
1. No drinking unless it's a special occasion. It's okay to have a drink to celebrate an anniversary, your birthday, your cat's birthday, your dog's funeral, your boss's son's bar mitzvah (whether or not you were invited), MLK Day, the 12-year-and-4-month anniversary of 9/11, etc.
2. No drinking just to improve your mood! Using alcohol to feel better is how a dependency develops. So if you're feeling bad and you're thinking of reaching for a drink, don't! Smoke some pot first to cheer yourself up before hitting the bottle.
3. No drinking alone. Make sure you only drink during social occasions, like when the UPS guy comes by with a package, or you've set yourself to visible on Gchat.
4. Involve your friends. Tell them about your plans to cut back. Their support will help you. But if you fail to cut back, lie to them. If they find out, they'll be less supportive, and you don't need that kind of negativity when you're trying not to drink.
5. Don't be so hard on yourself if you mess up one day! It's easy to blame yourself for screwing up and drinking a lot in a night, and that can lead you to give up the effort and start drinking full-throttle again. Instead, blame others. Think about what someone said to you that day to make you want to drink. It's their fault. Why is that person such an asshole and always making you drink more than you want to? Jeez.
6. Don't drink every time someone dares you to. "Come on you pussy, drink it!" We all get dared to drink something we don't want to drink, whether at work, at your kid's PTA night, or when you meet up with the gang under the bridge. When being dared to drink something highly alcoholic or probably poisoned, be selective about which dares you want to accept. If you don't really care about being accepted by the people who are daring you, just say, "No thanks! I don't need to drink to be liked by you." But if the people daring you are really cool, taking that drink might be worth it.
7. Don't drink just because you're bored. Make it a hard and fast rule. Any time you're bored, no drinking. Only drink while watching the highly entertaining Marvel's The Avengers.
Exceptions:
1. It's okay to drink if you're an undercover cop out on the town with the target of your investigation trying to get him to talk. Don't blow your cover! But don't overdo it either.
2. It's okay to drink if you're on a date and the guy looks like your brother and that's weirding you out so you need to blur your vision a little. We need to do what we can to find love.
3. It's okay to drink if there's an asteroid on its way. End of the world? End of your sobriety!
4. It's okay to drink if you're opening mail. You shouldn't have to face those bills sober. You're not superman!
5. It's okay to drink if everything's bullshit. I mean, Jesus, it's all just fucking horseshit, right? The whole game? Life? Christ.
6. It's okay to drink if you're meeting your long-lost dad for the very first time and he wants you to have a drink with him. You're gonna tell him you're trying to cut back? What if he runs off again like when you were six? 
7. It's okay to drink if a hated but still attractive ex announces their engagement, career success, lottery win, favorable biopsy results, or that they had a really good lunch on Facebook.
8. It's okay to drink if you're on a plane, a boat, a train, a long-distance bus, you're walking over a bridge, or you're hopping rocks across a ravine. Kind of the "international waters" rule. All bets are off. 
9. It's okay to drink if you're getting ready to start a fistfight. Also counts for fights with bicycle chains and knives. 
10. It's okay to drink if you give up something else. Like smoking, hard drugs, or your family.
11. It's okay to drink if the power goes out. Also counts if you simulate a power outage by unplugging everything in your house. Shrinking your carbon footprint merits a celebration.
12. It's okay to drink if you just made a really tasty, perfectly shaped, impeccably spiced plate of meatballs. Are you going to eat them with water? Nope.
13. It's okay to drink if it's still fucking January and, Jesus Christ, how many days are in January anyway? Thirty one. Thirty fucking one.
14. It's okay to drink if you've followed all the rules in this cutting down on drinking guide to a tee. Great job. This calls for a drink.
(by Bob Powers)