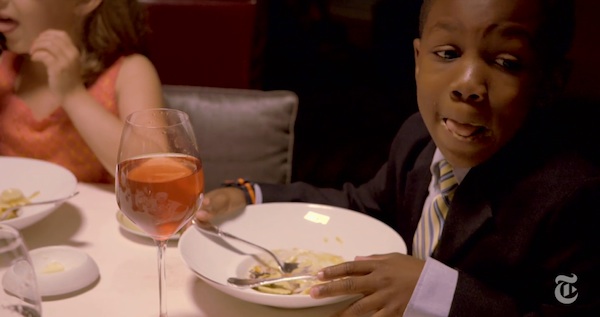 Second graders. They're just like us.
For the New York Times Magazine's fall food issue, they took a bunch of 2nd graders from P.S. 295 in Brooklyn to dinner at Daniel, one of New York's most expensive restaurants. The kids dined on Wagyu Beef Rib Eye, Smoked Paprika Cured Hamachi, the restaurant's signature madeleines and more, and they washed it all down with custom-designed non-alcoholic cocktails.
Head chef Daniel Boulud commented that the goal was "for the children to really discover a lot of flavor, a lot of layers, a lot of texture." A bunch of those textures were totally gross. The caviar freaked out at least one kid; another commented that the squash ravioli tasted like soap.