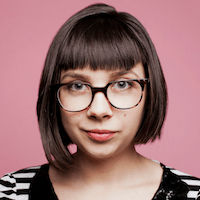 Filed by April Lavalle

|

Apr 25, 2017 @ 3:00pm
I scream, you scream, we all scream for...
GOTH ICE CREAM.
*cue heavy metal music and excessive head banging.*
Little Damage Ice Cream Shop in Los Angeles, California is flipping the bird at all those "unicorn"-inspired sweet treats by creating a frozen confection that will take you to the dark side.
Their pitch-black, almond-charcoal flavored soft serve ice cream is taking Instagram by storm, and it will definitely inject a little Halloween into your favorite summer treat. Make sure you request a black cone to match.
You can even dress this handsome devil up with some brightly-colored toppings, though your cone will look slightly less badass.
Or you can pair it with other flavors to add a pop of color.
And Little Damage isn't the only ice cream parlor serving up some sinister-looking sweets. Last summer, Morgenstern's in New York City debuted their black Coconut Ash ice cream.
In fact, I was able to grab a scoop and see what the fuss was about for myself. The ice cream was delicious, but it did have one unfortunate side effect.
Even so, 10/10 would eat again.