Bravely facing the hard road to recovery.
Get ready, drunkards, for this is the dawning of an age of pain-free imbibing. According to Business Insider, people are now getting up after partying all night to go to spa/clinics like Hydration Station in Atlanta to get an IV bag strapped to their arm full of drugs and vitamins to rid themselves of their hangovers. This makes total sense. Sure, the idea of going to a room full of other hungover people with needles in their arms discussing how wasted they were last night might take a little getting used to, but quick and easy fixes are what made this country great, no matter how odd it may look. And sure, it may feel like cheating somehow, but if you're allowed to cheat at anything in this world, it's hangovers. 

I presume that's the V sign for humanity's victory over our favorite poison fun.
 

Get ready to meet the new face of hangovers: fresh, sexy, and attached to tubes and wires.
(via Facebook)
When you have a hangover, things that can help include water, B12 vitamins, pain medication, anti-heartburn medication, anti-nausea medicine and salt. So why not just stick an IV in your arm and inject yourself with all those things through two bags of saline injection that deliver the same hydration as drinking four gallons of water? Oh, and an oxygen tank, because oxygen is pretty helpful for the body as well, from what I've heard. After all, according to the Hydration Station, a major cause of hangovers is dehydration: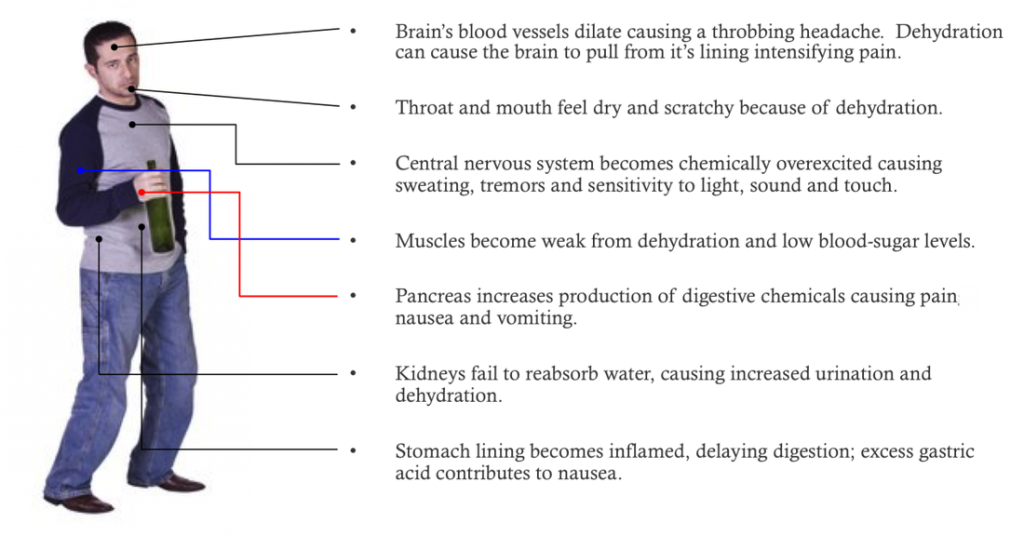 I'm sensing a theme here...something about a lack of hydration. (via Hydration Station)
There is no reason to not do this (except that it's a teensy bit weird). It's a terrific idea that we've all thought about at some point (or maybe with coffee). That cocktail I described is the top-of-the-line $99 "Niagra" recovery deal offered by Hydration Station. The most popular package is the $29 "Baptism," an internal rinse of Lactated Ringer combined with O2: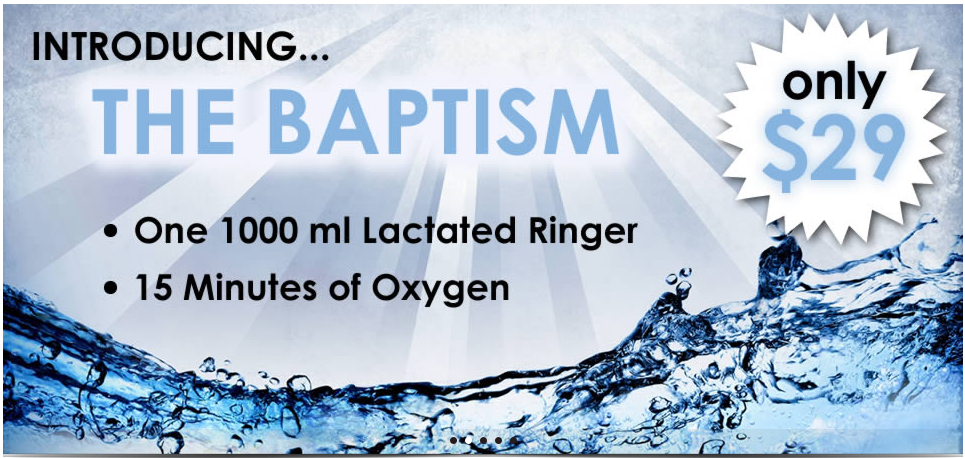 A Lactated Ringer is actually just a standard IV bag of saline, minerals, sugars and vitamins.
They don't usually call it that, though, because it's weird. (via Hydration Station)
The Hydration Station spa was founded by Keith McDermott, a guy who drank too much at a wedding and was introduced to the practice through a nurse that the groom had hired (to keep his buddies in drinking shape, I guess). Sure, OK, why not? Makes sense.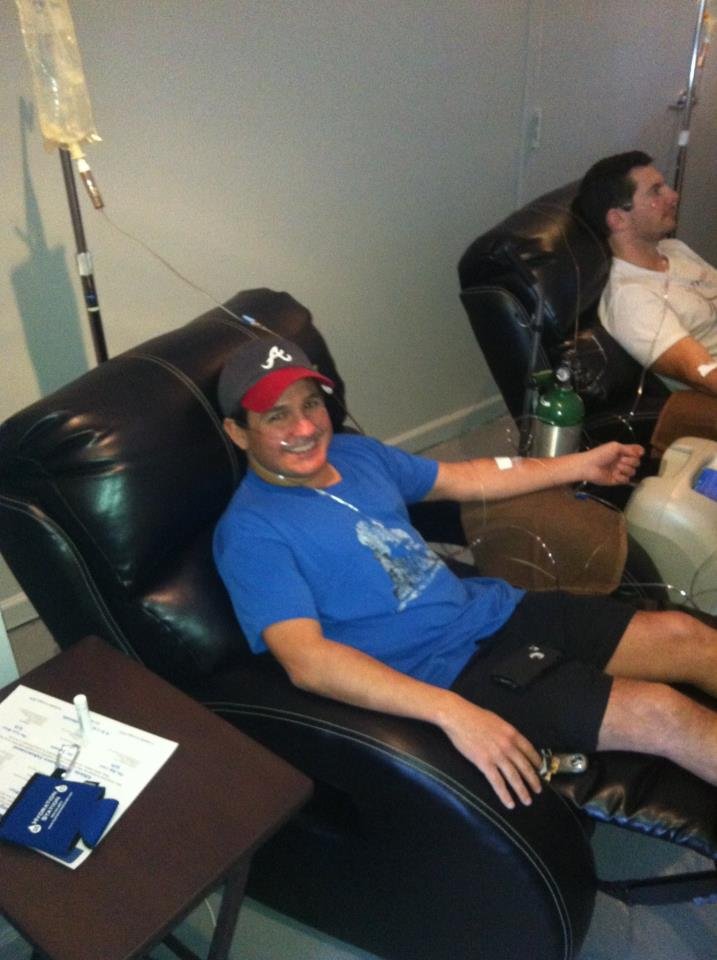 This is so much more modern than watching Netflix under your blankets. 
(via Facebook)
The first of its kind in Atlanta (there are similar services in Chicago and Las Vegas), McDermott would rather market his business as something for athletes (despite his reason for founding it). Athletes do frequent his spa, but currently the regretfully intoxicated represent a huge part of his business (75% on weekends) and apparently make up a lot of its most fervent supporters and positive reviews. Their own Facebook account would seem to suggest the appreciation is mutual:
 
We here at Hydration Station advocate the massive intake of liquids at all times.
They're also sponsoring a New Year's Eve ball (and, to be fair, a lot of sports events like the Atlanta marathon, as well).  They've even managed to get the makers of sports recovery drinks like the aggressively named Kill Cliff come in for a treatment.
 
Yeah, they don't look like they're there for their normal sports-related needs. 
You can also count on Hydration Station to provide a comfortable setting for all your important business needs:

What better time to ask for an injection of cash flow than during an injection of nausea meds.
They also post stuff like this:
 
Ohhhkay. Are you sure the person running your Facebook page isn't hungover?
So, what are you waiting for? There are officially no consequences anymore. Drink all you want, as long as you can get to Atlanta the next morning and drag yourself to the clinic. Sure, a business involving lots of people and needles has its risks, and sure, it kind of looks like a dialysis center for irresponsible drunks, but when you're hungover the most important thing is getting that construction crew working right behind your eardrum to shut up. Now if they could just figure out a way to inject me with sleep.
(by Johnny McNulty)