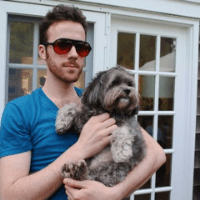 Filed by Miles Klee

|

Jun 04, 2017 @ 3:18pm
Details of the horrific terrorist attack on London Bridge and in the surrounding area last night are still unfolding, with 7 confirmed deaths, dozens injured, and hundreds traumatized by the chaos. But the heroism of Londoners in the thick of this violence was evident from the very start.
JUST IN: Witness to @NBCNightlyNews: People used pint glasses and chairs to fight back as at least 1 attacker entered a pub in London.

— NBC Nightly News (@NBCNightlyNews) June 4, 2017
With the attack coming late on a Saturday evening in the heart of the city, many Londoners were out drinking and found themselves either sheltering in pubs or defending them from the three assailants involved. Others had to flee their favorite watering holes—like this guy.
The people hating on this guy are blatantly NOT British. We find this a) funny and b) admirable.

— Sgt.Big_Bubbles! (@Big_Bubbaloola) June 4, 2017
Yes, that's a man who, while fleeing for his life, is sure to maintain a solid grip on his glass of lager. It's like... what's that old British saying? Keep Calm and Continue Drinking? What an inspiration.
£6 in a pint in London, ain't leaving that.

— SlickFlairTM (@SlickFlairTM) June 4, 2017
Brits at their finest. You can threaten our lives. You can terrorise our streets. We will take shelter, but we will never drop our pint. pic.twitter.com/qaNGxr5THk

— Charlie Cox (@charlcox6) June 3, 2017
As yet, the man who refused to abandon his pint remains unidentified, but he's probably nursing quite a hangover today.