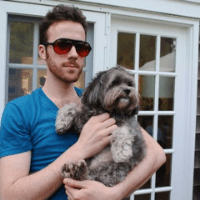 Filed by Miles Klee

|

Nov 05, 2016 @ 5:12pm
Crime doesn't pay, but going viral sure does.
Recently, Kansas State student Hunter Jobbins was dismayed to find that someone had gotten into his unlocked car to steal a Kit Kat bar he'd been saving for later. The thief left a hilarious apology that quickly went viral on Twitter.
Not a company to take this flood of free publicity for granted, the Hershey Company reached out through Kit Kat's account and vowed to set things right.
@jabbins Who steals someones Kit Kat?! WHO DOES THAT?! Shoot us a DM and we'll replace it for you 🍫

— Kit Kat (@KitKat_US) October 31, 2016
What they didn't mention is that by "replace," they meant "stuff your car with 6,500 Kit Kats for a photo-op and so you can drive around campus giving away our product." Yep, everybody wins here. Especially people who love chocolate.
Remember the story about the dude who had the KitKat stolen out of his car, and the a**hole robber left the note? Hershey HOOKED HIM UP! 💯 pic.twitter.com/bAek14szD4

— The Woody Show (@TheWoodyShow) November 4, 2016
As for the identity of the thief, well, that's still a mystery. But we have a feeling he or she got a bonus Kit Kat out of Jobbins' Camry this week.