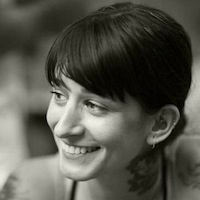 Filed by Jessie Dean Altman

|

Jan 12, 2017 @ 12:31pm
By now you've probably seen or at least heard of "Saltbae" (real name Nusret Gökçe), the hot-looking chef with a very distinct manner of salting food, sprinkling it from far above with a strange flick of the wrist. In addition to being an internet sensation, Nusret Gökçe is the owner of a chain of steakhouses in Turkey called Nusr-et. Well, here's another oddly erotic video of Saltbae handling some meat. It's technically SFW, but it might make you feel…something not entirely appropriate (about both him and the meat he's cutting).
A post shared by Nusr_et#Saltbae (@nusr_et) on
It's like the meat is performing a strip tease for the chef, as he peels off the skin like it's clothing. Oops, and there's that confusing feeling again. Oh yeah, smack that meat, baby.