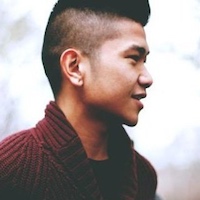 Filed by Keith Estiler

|

May 18, 2016 @ 10:52am
In his latest project, "The Secret Order of the Slice," photographer Chris Gampat pays homage to America's favorite greasy food, pizza (phonetically: peets-ahhhhhhhhhhh. Add H's depending on your level of hunger.) Gampat's delectable portrait series spotlights several of his closest friends at the glory-filled moment when they first pop open a pizza box.
Gampat told Someecards the idea came about last January when he and his friends were eating pizza and watching Adventure Time. "When the (pizza) box was being opened up, my friend vocalized those angelic tones you hear stereotypically in TV shows. So I thought to myself, 'Pizza is my spirit animal.' What if I photographed a holy light coming from the box?" To underscore the divine essence of his inspiration, he added: "True story."