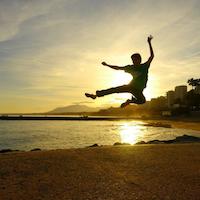 Filed by Mitchell Friedman

|

May 19, 2016 @ 1:40pm
Take a deep breath before you watch the following video, because you cannot make what you're about to see your own. You cannot modify your vehicle to do this. It is almost certainly illegal. Even if it wasn't, you are not Xzibit on Pimp My Ride. Even Xzibit wasn't really Xzibit. And you do not have the skills to accomplish a pizza oven on four wheels.
Wow this is one for the books. It's not everyday that you see an active pizza oven on the back of a trailer. #wtf #isitsafe #fireinthehole #anyonehungry

Posted by Kerri Lacey on Tuesday, May 17, 2016
"One wonders if this is very safe," Kerri Lacey thinks aloud, reasonably. "A fire. In a pizza oven. On a freeway. With a car. 'Tis a question."