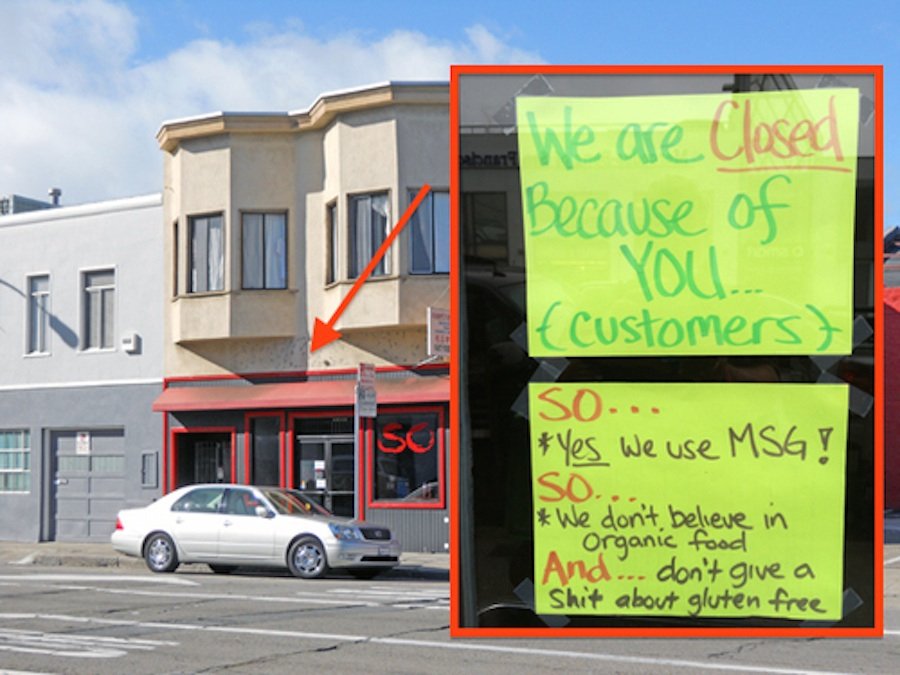 So, when will you be open again?
The owner and chef of the Chinese restaurant SO in San Francisco has had it with picky eaters, so much so that he'd just rather not open up for business anymore. We all know how much more annoying people are becoming at restaurants these days, and as with so many trends, San Francisco is at the leading edge of complaining about the presence of gluten or absence of organic options on the menu on a place known for its "killer wings, noodles, and dumplings." According to Eater, who interviewed an employee of the restaurant, the chef closed shop after a table wouldn't pay because their food was "too spicy" and a different customer swore at him. But clearly, according to this sign, he also has some longstanding issues with persnickety diners and their up-to-the-minute needs, and this was the last straw.
"He needed to cool off. He was frustrated and stressed out," said the employee interviewed by Eater, "and he's the cook, so we can't run the restaurant without him. We closed up early, and he put up the sign." The shutdown protest only lasted until the next night, but clearly, he needed the evening off. I know annoying diners are bad (and give a bad name to people with actual allergies), but for the sake of everyone who likes authentic MSG-filled Chinese food noodle wings, you've got to stay open.
(by Johnny McNulty)