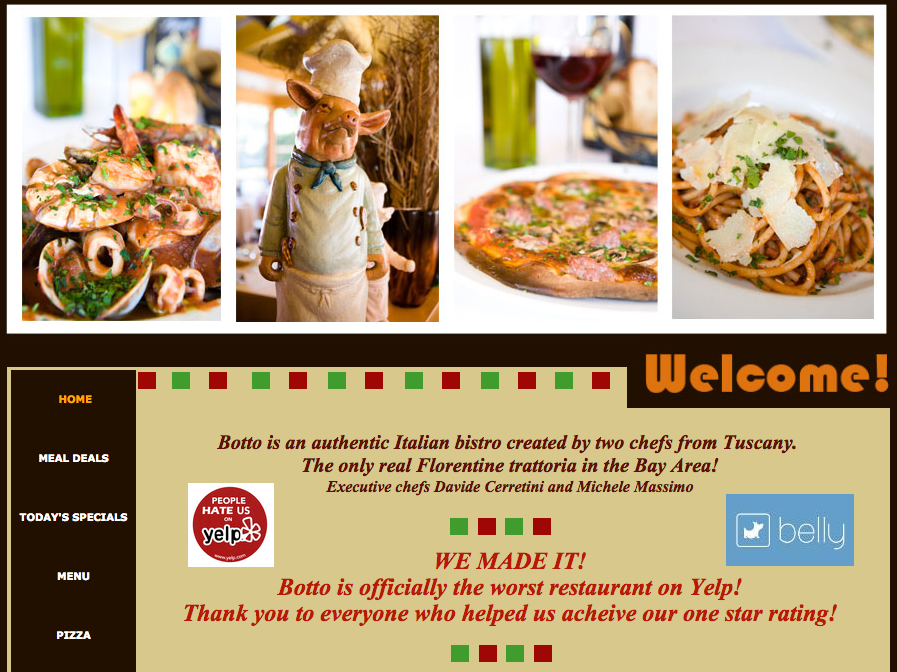 You can't keep a good restaurant from keeping itself down.
Last week saw a Chinese food restaurant in San Francisco shut down in protest of its whiny customers, and now another SF restaurant is bad-mouthing itself in protest of stupid customers, their online presence, and the whole institution of Yelp.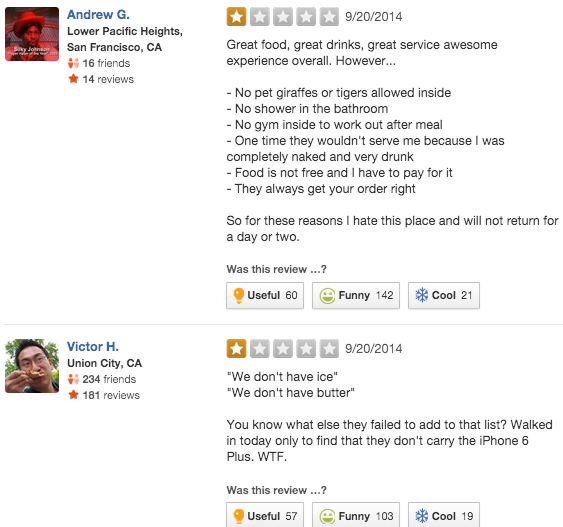 Yelp is a scam that should have been left in the last decade, yet it still has a stranglehold over thousands of restaurants around the country. Most restauranteurs live in terror of the one-star reviews that will flood their page unless they pay Yelp a mafia-style protection fee. Not Bay Area trattoria Botto Bistro. They're channeling their hatred of Yelp and stupid customers into a wonderful campaign of self-promotion through self-sabotage.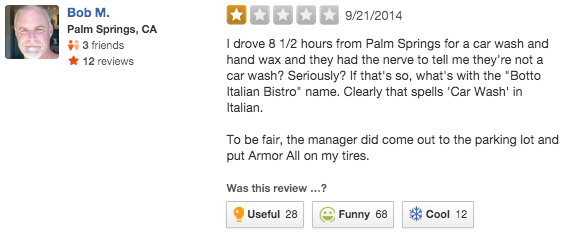 Botto Bistro's owners and chefs, Davide Cerretini and Michele Massimo, had received one too many emails from Yelp demanding they buy ads to raise their ratings (and imply that their ratings will fall if they don't pay up). Cerretini and Massimo asked Yelp to remove them from the site entirely, which is one customer support email the ratings giant simply won't respond to. So, they're aiming to make their restaurant the worst-reviewed and least reliable Yelp page in the city of San Francisco.

By offering a 25% discount on any pizza and a chance at winning a spot in a cooking class in exchange for a 1-star review, Botto has turned its Yelp page into a wonderland of hyperbolically terrible customer complaints.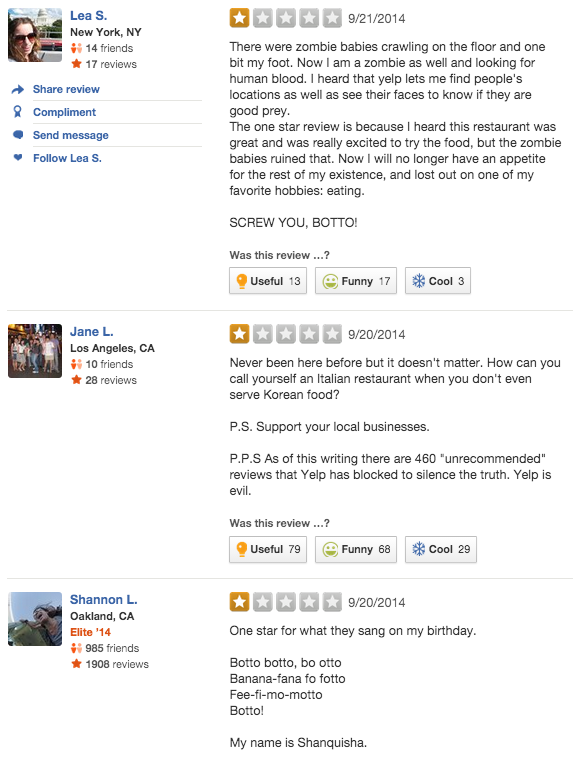 This isn't Botto's only delightfully antagonistic PR campaign. Check out their restaurant's website, which devotes its front page to mocking the dumb questions asked by customers on a regular basis.


"Who's first cook?" "Yes." "I mean the guy's name." "Who." "The first cook." "Who." "The first cook." "Who is first cook!" "What are you asking me for?!"
Not that Botto's owners can't envision a world in which Yelp would still be a good site. "The idea is fantastic, but the blackmailing thing is ferocious. I think I should be the one deciding if I'm on the site or not," Cerretini told Inside Scoop SF. "The only power they have is they make you reliable to them. So, I'm going to be one of the most unreliable restaurants. I want to be the worst restaurant there is in the Bay Area. I think this is the best business move I have made in years."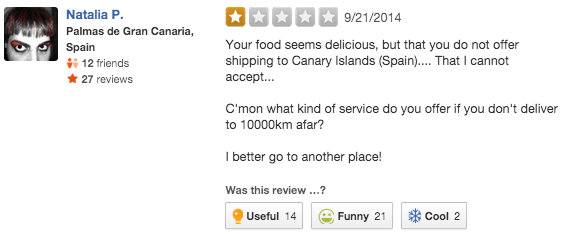 Apparently, business is up, and the owners have found that they like their new customers who have been drawn in by their F-U to Yelp. "We are not just getting new cusomers," said Cerretini, "but new friends who say they like this."


Consider the lobster ravioli. Too hard? Consider this squeaky ball. Good boy.
Yelp is not happy with them, although they've still declined to remove Botto's listing as asked. Instead, they've sent a sternly-worded letter warning them that they're violating Yelp's policies about offering rewards for reviews. "We got a threatening letter saying that we buy Yelp reviews—and we do. We buy bad reviews."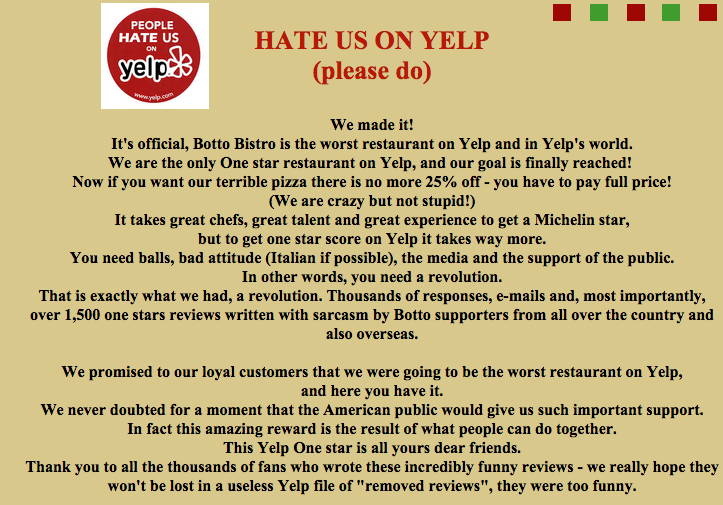 Read the letter: 
Hi Michele, 

I'm contacting you from the Yelp User Support Team because we've received complaints from the community that you may be offering incentives in exchange for reviews....To be clear, this violates our Terms of Service, and reviews written under such circumstances violate Yelp's Content Guidelines. We also often find from user feedback that such practices do more harm than good, as the practice creates distrust amongst customers and users who now eye all reviews on a listing with suspicion. If you are offering incentives in exchange for reviews, we ask that you immediately discontinue such activity. If we learn that this type of behavior has continued, we may take action on your Business Account which could include suspending access to your listing. It may also result in a Consumer Alert being placed on your listing. 

Regards,
Marvin Yelp Support
So, head on over to Botto's Yelp page (keep in mind that Yelp is rapidly deleting these "misleading" reviews), and help them dig their way out of the hole that all of America's eateries have gotten themselves into.
(by Johnny McNulty)