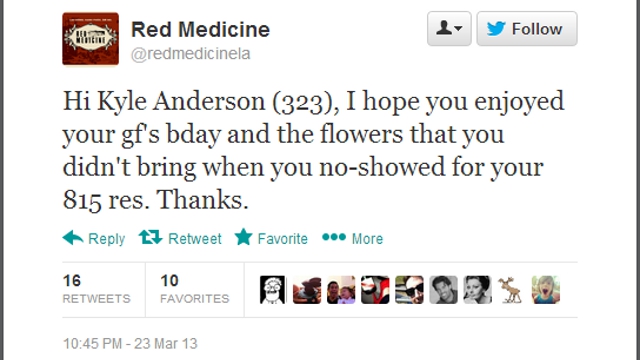 It was her birthday, Red Medicine. She decided to have sex and order in.
Popular LA restaurant Red Medicine is sick of turning customers away on what they assume will be a full night, only to find many of their reservations are no-shows, so they've decided to try and address the problem the way all problems get addressed these days: Internet Shaming. The restaurant is now using its Twitter feed to call out their no-shows, hoping to discourage such behavior.
So that's how this part of "the way we live now" is being lived now. You've been warned. If you plan to eat at Red Medicine, or any of the other restaurants likely to follow suit in the near future, either make sure to reserve under a name that isn't Google-able back to you, or do like the rest of polite society does and either show up or cancel at a reasonable time.
Sure, sometimes Internet shaming works a little too well, like last week when a woman took to the Twitter to identify two guys making questionably pervy nerd jokes at a tech conference and she got one of them, and herself, fired. But all Red Medicine wants to do is get people fired from dining out.


Jeez. Was there a pile-up on the 405?