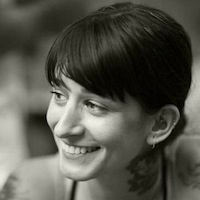 Filed by Jessie Dean Altman

|

Apr 29, 2016 @ 10:18am
Vinnie's Pizzeria in Brooklyn, NY., the proud home of the "T.HANKS" garbage can, has invented a pizza box made out of pizza, with a pizza inside it. Is there a Nobel Pizza Prize? No? Well, there should be, and it should go to Vinnie's.
Sean Berthiaume, one of the pizzeria's owners, told BuzzFeed the inspiration came from people asking for a box for their pizza even when they weren't taking it to go. "There's no point, it fills the the trash can," he said, "So I thought, what if you could just eat the box?"