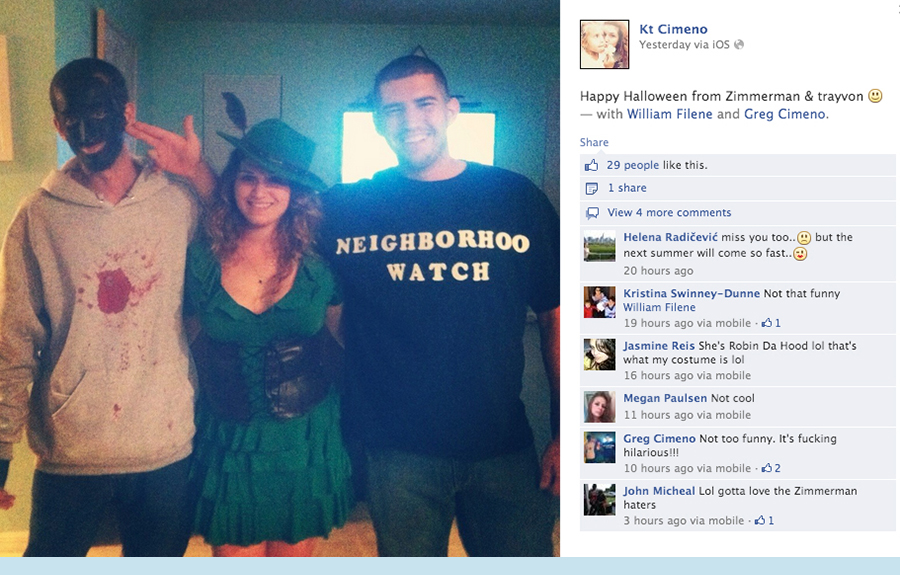 Robin Hood is the most famous thief in all the land. Still, Zimmerman shoots the black kid.
These are a bunch of idiots in a photo posted by the idiot in the middle, who is from Martha's Vineyard. While their photo did get 29 likes, it also got its own page on The Smoking Gun, which is pretty much the last site you ever want to be featured on. There the world was introduced to these people's real identities and histories. Allow me to introduce the least sympathetic people you will ever meet:
1. First up, on the left, we have the inestimable William Filene, 25, of Cape Coral, Florida sporting a very retro shoepolish blackface look with a gunshot/bloodstain-pattern sweatshirt. Mr. Filene has been arrested for auto theft and loitering/prowling (not in that hoodie, I presume). His auto theft arrest was in June, to which he pled guilty and is now on probation. In other words, he is actually the guy Neighborhood Watch is supposed to be looking for, and without blackface he looks just like his mugshot.