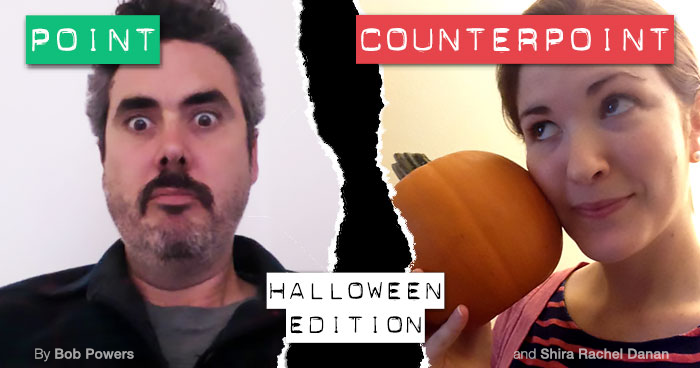 Halloween Is Terrible 
by Bob Powers
On one of my more enjoyable Halloweens, I began the evening surrounded by about eight teenagers in masks pummeling me with a barrage of eggs. They began by throwing them, then they got in close and started slapping them against my body until it was pretty much an 8-on-1 street fight. I look back on this Halloween fondly, since being jumped before 7 PM gave me the perfect excuse to not go out at all that night.
Halloween is wonderful for children. Children still have the ability to imagine and dream, and they get to dress up as those things they dream about and there's candy.
For adults, the ability to dream is long dead, so Halloween is nothing more than a night to get drunk while wearing a mask. The people you don't want to see at the bar come out in droves, and they're even louder and more abrasive because they're dressed up as Ron Burgundy or a Sexy Ebola Nurse, and they believe that substitutes for having a tolerable personality.
It's harder to drink while in costume. If you have a mask on, you have to lift it up or take it off to get the alcohol in your body. If you are wearing makeup, it's probably cheap and toxic and it's mixing with the alcohol that you're putting in your body. If you're holding a prop or wearing gloves or something else over your hands, it's harder to hold on to your drink, adding yet another spooky hurdle between alcohol and the inside of your body.
Wearing a costume sucks. It itches and is too hot and you end up walking home holding it in your hands or letting it drag around behind you in tatters. The streets at the end of the night are more menacing and fights happen more easily because not only is everyone drunk, they're in masks.
In conclusion, it's harder to drink and you're better off getting beaten up and egged by urchins. Adult Halloween is gross and terrible
.
No It's Not 
I love Halloween. Every year, as soon as the corner store starts stocking bags of mini candy bars, I buy a ton, and when I get home, I tuck them away in a convenient kitchen drawer so I can eat them all month long. Let the festivities begin!
Halloween is the least stressful holiday of the holiday season. It's the one holiday for which you don't have to travel, buy gifts, or make small talk with your extended family. You don't have to see your family at all! Halloween isn't for family; it's for sweaty strangers who want to make out.
As a kid, I loved dressing up for Halloween, even that year I dressed up like a princess and found out the hard way that everyone else had moved on to being hippies and gangsters (How did they all know it was time?!). The weather was always perfectly crisp as we traipsed from house to house, enjoying the delicious freedom, and then came home to gorge ourselves on chocolate.
Now some would argue Halloween is for kids, and adults should stick to adult activities, like wiping down their cubicles with disinfectant. But I say being an adult sucks, and we've earned the right to dress up like sexy ice buckets and puke in front of bars for just one night. Winter will be here soon, and we'll all be bundled up for months; before then, let's wear as little clothing as possible.
I met a guy at a Halloween party once. I caught his eye across the room and it was love at first sight. He wasn't wearing a costume; neither was I. We talked all night, minus an interruption where he had to run down the street to pee since the hostess had shut herself in the bathroom to vomit. When he came back, I was still there, waiting for him. And well, this year, our son is dressing up as a frog.
In conclusion, is there another holiday you can think of that routinely calls for the use of dry ice?
The opinions expressed in this heated exchange are those of their authors only and do not represent the views, policies, or erotic proclivities of someecards inc.