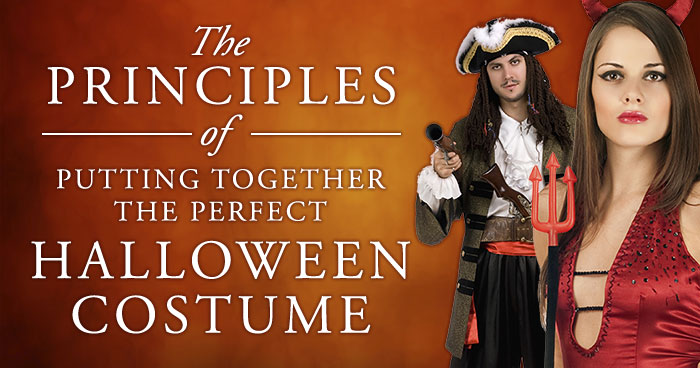 There're a few weeks left between now and Halloween, and if you think that's too early to start planning your costume, you've got a soft loose skull like a baby's and your brain is an idiot's. Any worthwhile costume takes thought, time, and effort, but luckily, all great Halloween costumes share a few basic principles:
It's easily explained: Halloween is loud, sloppy, and fast; nobody got time for you to hem and haw about which two-episode arc of Battlestar Galactica your character was featured heavily in (unless it's New Caprica, that shit was fire, RIP Duck). If you have to explain your costume at all, keep it crisp to elicit that "Ohhh" of recognition pleasure. Bad: "I'm Mr. Tinker Tailor Soldier Spy, from Tinker Tailor Soldier Spy, but the BBC miniseries, not the movie." Good: "I'M A COOL DOG!!!"
It smells amazing: Sew cloves, fruits' peels, and shaved nutmegs into the lining of your costume and, redolent of spice, you'll be the toast of the party. People will respect your opinions, defer to your judgment, and obey your every whim, just for the privilege of whiffing around your aromatic periphery. They'll hail you a living god and build a little fetish statue of you out of whatever's at hand and kneel to kiss it one by one, and you won't have to make any banal chit-chat about your professional life.
It's age-appropriate: No child should be a sexy crawfish. No adult should be an unsexy crawfish. As Blink-182 said, "What's my age again? I should pick a Halloween costume commensurate with that." And then there was a cool drum fill, and then, later on, Travis Barker got in a plane crash.
It looks great late: Halloween can get remarkably superficial for a holiday that revolves entirely around external appearances. Deep into the night, everyone will inevitably be too drunk to care what your costume is; all they'll care about is how you look in it. Suddenly, you're no longer the gal in the incredible full-body Teddy Ruxpin costume, you're just the weird big bear in the corner trying and failing to find someone to grope you through the long cold night. Pick a costume that, stripped of all meaning and context, still stuns. For example, you could be nude, or nearly nude.
It's got a pee hole: Function matters! No one likes having to cut a big obvious pee hole in the crotch of their costume, but it's a heck of a lot easier than unbuckling, unbuttoning, and unzipping yourself out of whatever you've poured yourself into. For poop you can just rig up a feedbag.

It's not a mash-up pun: Enough is enough! These one-note bunts have of late come into vogue, but they're about as exciting as ham and cheese. If any of these is on your list o' possibilities, ditch 'em: Nancy Kerrigandalf. Doctor Whobastank. Dwayne "Barack" Johnson. Sherlock Homestuck. Oscar Wilde the Grouch. Lil Jon Bon Jovi. Pope Francis Scott Key. Pope John Paul Atreides. Betsy Rosstafarian. Owen Wilson Phillips. One of those Adventure Time guys and another nerd thing you like. Frankenstein's Monster Truck. That one actually rules, so never mind.
It's made of money: Because then you can keep the money, NUMBSKULL.
It shows real preparation: In life, when we choose to dedicate ourselves to creating something ambitious and worthwhile instead of slapping it together last-minute, people take notice. Sure, you could slap some fake leaves on your shitty body and call it a Groot costume, or you could have started growing kudzu up out of your shoes 15 years ago so you're now totally encased in plant matter. You could put a cardboard fin on your back and call yourself a shark, or you could file your teeth to points, meld your fingers into fins, and train yourself to perceive electromagnetic currents with a special organ in your head. Which do you think someone would rather go home with at the end of the night?
It's easily shed: You should be able to ditch your costume in half a minute flat, just in case you catch the urge to do a quick crime, or need to have sex with someone super impatient. Go go go!
No meat: Meat will rot, stink, and attract flies, and, raw or undercooked, it will significantly increase your risk of contracting a food-borne illness. Be smart this Halloween and leave the meat out of your costume for once in your damn life.
It's interesting and original: This is super important, probably the most important thing. You just don't want a boring, unoriginal costume. You should come up with something good to wear and then wear it. Don't wear a bad costume. Wear a good one.
Or just be a bee: Cool, a bee!
Follow Dan Abromowitz on Twitter.