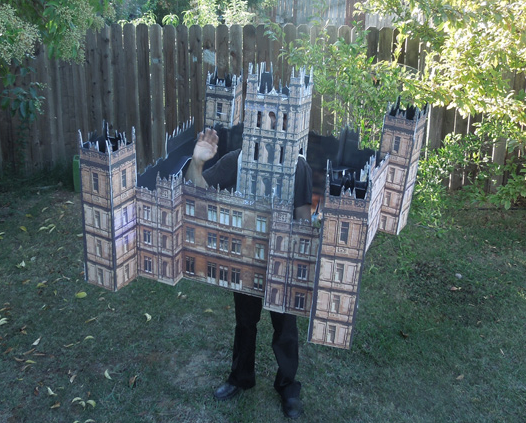 No, not a 'Downton Abbey' costume. A Downton Abbey costume.
If I were going to try to make a creative Downton Abbey Halloween costume, I'd probably just put on a tie and a pair of driving gloves and then cover myself in blood and say I was the late Matthew Crawley. Though, I suspect that decision would come with a lot of confused looks and requests for further explanation.
Rob Cockerham had a much better idea. As soon as you see it, you know right away: that's a Downton Abbey costume:
Now, if I wanted to be pedantic, I could point out that Cockerham actually dressed himself up as Highclere Castle, since that's the actual name of the Jacobethan country house in Hampshire, England where the show is filmed. But that would be like pointing out that your Iron Man costume is actually a "Robert Downey, Jr. at work" costume. It's Downton Abbey as far as any of us are concerned. (Plus, we all know how much the Internet hates pedantry.)
Wondering how much work goes into a Downton Abbey costume like this? A lot, it turns out. I know, because Cockerham documented the whole painstaking process for his website. 
(by Dennis DiClaudio)